I used to get really frustrated searching for toys for Dominik. One would think that finding simple, safe toys would be totally easy and not break the bank. Most toys that are easy to find and on the cheaper side are plastic, electronic, and obnoxious in some way. It seemed like everything had a character or a face. Around this time last year, we had a hard time finding one of those outdoor ride-in cars without a face. Mass produced wood toys are gaining popularity and appear quite nice, but the paint often chips and I just wasn't comfortable giving my baby something like that. With some searching, there are some safe and truly beautiful toys out there. Have you ever seen Grimm's?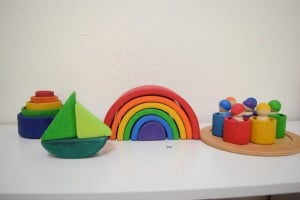 Grimm's Spiel and Holz Toys
Most of these boutique toys had everything we were looking for: safe (no paint chipping and no plastic when possible), open-ended (not battery operated and could be used in more than a few ways), and beautiful (characters and faces on everything was just too much). But they are really expensive. We are very fortunate and have bought and received toys by Grimm's, Plan Toys, Holztiger, and Camden Rose. Are they worth the money? In my opinion, absolutely. But a child's toy box does not need to be filled with expensive things. In fact, if you are crafty, it's possible to fill a child's toy box with safe, open-ended, and beautiful toys that are handmade or at the very least re-purposed.

Woodworking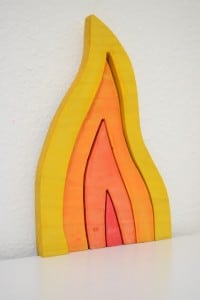 With a bit of practice and the right tools, these boutique toys can be nearly replicated at home. There are tutorials all over pinterest on how to make various wood toys and dolls. My husband is good at working with wood, so we combined our talents to make Dominik some wooden animals. We bought the wood, popular and maple, from Home Depot and I drew on the shapes of the animals. My husband cut them out and gave them a good sanding. Then I used nontoxic liquid watercolor (you can find that here) to paint them. A few coats of the following wood finish and they were good to go!
Wood Finish:

-1/3 cup beeswax
-1 cup coconut oil

Melt the ingredients in a double boiler (I used a stainless steel mixing bowl over a pot of simmering water). Stir well and pour into a clean glass container. Mix every now and then until cool and hard to prevent separating. *Can also be used as lotion and lip balm
Crafted and Sewn Toys
There are also plenty of toys that are easy to make with a sewing machine, a needle and thread, or just with some crafty know-how. A few months ago, I sewed a "quiet book" for Dominik. It's basically a fabric book that has a little activity on each page. It could be as simple as different textures or skill practice like using buttons or even matching games.
The possibilities that can be crafted or sewn are endless. Mobiles can be easily put together with paper, sticks, and string. Play food can be sewn with felt. The easiest that is the most played with around here? Bean bags! A great way to use up fabric scraps and they can be used as a sensory item or for playing games. Fabric doesn't have to match.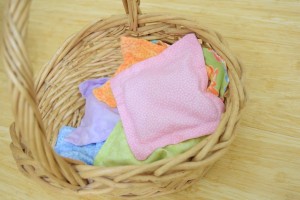 Bean Bags:

-10 squares of 6″x6″ fabric
-5 different dried beans or grains (ex.: chickpeas, black beans, rice, lentils, barley)
-sewing machine or just needle and thread

Sew two squares together, the wrong side of the fabric facing out, leaving about a quarter of an inch border. Only sew three sides. Turn inside out and fill with one of the dried foods. Fold the raw edges into the beanbag and pin shut. Sew an even border around all four sides.

Re-Purposed Toys:

Not crafty? No problem! Some paper towel cardboard rolls and craft pom-poms make a great toy. Tape the rolls to the wall so that the pom-poms are dropped through. Or fill a tub with water or sand or rice and let your child using different cups to pour and fill. Measuring cups make great stacking cups. Old clothes, shoes, and handbags are perfect for dress up. Cardboard boxes are forts or castles or just a simple item for baby to put things in and take things out.
The best, easiest, most beneficial toy that is also free? Items found in nature! Sticks, pine cones, rocks, shells, leaves, flowers, wood, and even plain old dirt. These items are as open-ended as you can get and provide a child with loads of sensory opportunities. Imagine the difference between a light, cold, hard piece of electronic plastic and the rough, heavy, light smooth, soft, smelly, fragile, sturdy items found in your backyard.
Nature Box:

-Box or bag or really any safe container
-Rocks, pine cones, shells, sticks, leaves, etc. Things found outside in nature

This is very simple and easy. Go somewhere in nature. Doesn't have to be all at once, these things can be collected over time. Collect things and put them in the box, that's it! *Items will vary depending on your child's age. Children under the age of 3 should not be given small rocks or other choking hazards. Use your best judgement and avoid items that are sharp, poisonous, too small, or hazardous in any way.

Less is More
Kids don't need very much. They have done great for many generations with little to no toys, so having a full toy box is unnecessary. To be honest, they would rather play with real, grown up things. After all, they are learning how to live and be future adults. Dominik loves to sweep the floors, mix and prepare food, and fold laundry. Kids can also learn a great deal from just running around outside. Young children are still learning basic physics while older children can pretend to be whatever they wish to be.
Dominik has fancy toys, cheap toys, noisy toys, etc. But the handmade ones get the most play. I'd like to think it is because they are imprinted with love, but it's probably because they are simple and open-ended.