Being vegetarians, my mother, sisters, and I don't eat turkey for Thanksgiving. Normally, she makes a lasagna as our main entree, but the last few years we have been trying out different Thanksgiving inspired entrees. One year we got a "tofurky". Yes, it's as gross as it sounds. We have also tried a few different lentil loafs, but they usually were bland and boring and mushy. But this year? Oh, this year I've got the perfect lentil loaf recipe.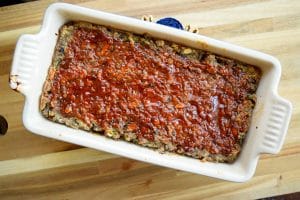 A lentil loaf is pretty much a vegetarian meat loaf. Instead of meat, there's lentils, making it a highly nutritious and protein packed dish. I'll admit, I have never had meat loaf. In fact, I didn't really even know what it was until I was in my teens. The lentil loafs that we have had, according to my husband, are not even close to what a meat loaf tastes like, so I do not think the purpose is to mimic the meat loaf flavor. The purpose of the lentil loaf is simply to make a filling and hearty vegetarian entree.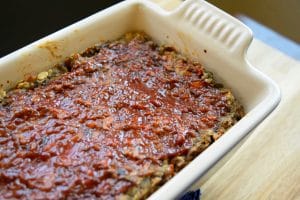 I've tried lentil loaf recipes from various blogs and cookbooks, all with very different aspects. They all have a base of lentils, but some have nuts and apples, others have bell peppers and spices, the combinations are really endless. But none of them really had that "wow" factor.
So after some trial and error, I did it. The perfect lentil loaf recipe. Hearty, savory, rich, textured, flavorful, and it even sliced well.
The Perfect Lentil Loaf
Ingredients:
1 cup brown lentils
2.5 cups vegetable broth (or water)
1 medium onion, diced
1/2 cup carrots, finely diced
1/2 cup celery, finely diced
1 cup cremini mushrooms, finely diced
4 cloves garlic, minced
1/2 tsp garlic powder
1 tsp Italian seasoning
1/4 cup fresh Italian parsley, finely chopped
1/2 cup rolled oats
1/2 cup flour, like oat flour
1 chia egg (1 Tbsp chia seeds, 4 Tbsp water)
Salt and pepper to taste
*Balsamic glaze*: stir together 1/4 cup ketchup with 1 Tbsp. balsamic vinegar
Directions
Bring the lentils and the broth to a boil, reduce heat, and simmer for about 40 minutes. Let sit and cool for about 15 minutes.
Preheat the oven to 375 degrees. Heat olive oil in a pan and cook the onions, carrots, and celery for about 5 minutes. Add the garlic and mushrooms and cook until the vegetables are soft and the onion is translucent.
Prepare the chia egg by mixing chia seeds and water in a bowl and let sit until thickened.
Transfer the lentils to a large bowl and mash with a potato masher or fork until most is roughly mashed. Pour in the vegetables and add the garlic powder, Italian seasoning, parsley, oats, flour, chia egg, and salt and pepper. Mix well.
Pour into a greased loaf pan and press down firmly to pack it in.
Bake for 10 minutes and brush half of the balsamic glaze on top. Bake for an additional 30 minutes.
Brush the rest of the balsamic glaze on top and serve!