Thanksgiving with my family was always delicious growing up. My father made enchiladas and my mother made lasagna. Sure, we had vegetarian stuffing and mashed potatoes and an assortment of roasted vegetables and stuffed mushrooms. But typical Thanksgiving foods like sweet potato casserole and green bean casserole never made the cut. In fact, I had no idea these dishes even existed until I was quite a bit older.
The few times I have had green bean or sweet potato casserole, to be perfectly honest, I thought they were both pretty gross. My husband loves them, but I guess I never really developed a taste for them. Green beans are one of the few foods I really dislike, so I decided to make a sweet potato dish that had no added sugar, was easy, and would satisfy his sweet potato cravings.
Sweet potatoes, being naturally sweet, taste amazing with a wide range of spices. I found Garam Masala gives sweet potatoes just the right balance of sweet and savory spices to create more depth in it's flavor.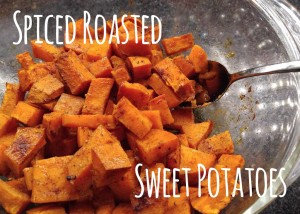 Spiced Roasted Sweet Potatoes
Ingredients:
2-3 medium or large sweet potatoes
2 Tbsp extra virgin olive oil
1 tsp Garam Masala
1/2 tsp cinnamon
Salt and pepper to taste
Directions:
Preheat oven to 400 degrees. Peel and diced sweet potatoes. You can leave the skin on, but we aren't a fan of the texture.
Put the sweet potatoes in an oven safe dish and toss with olive oil, the spices, and the salt and pepper.
Cover and bake for about 20 minutes, stir, and bake uncovered for an additional 15 minutes, or until soft.