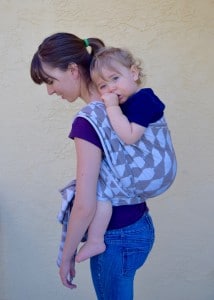 Poe Wovens is an American company owned by a female veteran, Nancy Sunderland, which is reason enough to support it. Their woven wraps are all top quality and I had been wanting to try one for quite a while. When I got the opportunity to test out their new wrap, Harlequin Revamped, I was thrilled.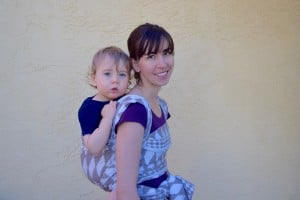 When I first opened the box, I noticed that it was very thin, floppy, but a bit scratchy. To be honest, I wasn't a fan of the color because neutrals just aren't my thing. But the pattern struck me as lovely and I knew I was going to love this wrap. After a quick wash, dry, and steam iron, it softened up quite a bit and even my picky toddler wanted to snuggle with it. As I used it over only a few days, it became even softer. This wrap has the potential to be absolute butter. I'm still not a fan of the color, but that is personal preference. I can see neutral lovers hoarding this wrap.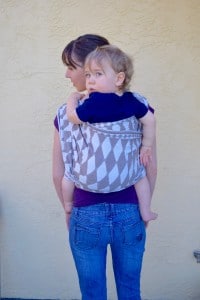 Harlequin revamped is a 100% mercerized cotton wrap and, this particular one, a size 6. Despite a few typical weaving "beauty marks", it was flawless. The colorway is "rye", which is a warm chestnut brown. Being a historian, I was immediately drawn to the "harlequin" pattern. The neutral color meant that the busy pattern matched my entire wardrobe, which was nice. The pattern translated into a wonderful wrapping texture, but it was not as pronounced as I thought it would be. It was relatively flat and the subtle texture gave enough grip to hold passes and knots, but was smooth enough to make tightening a breeze.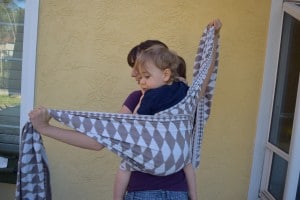 This is a very thin wrap, both in hand and wrapped. The stretch is also very noticeable and I would most definitely call it an ace bandage wrap. I was initially worried that it would be too thin and stretchy for my 30 pound, hefty toddler, but I was happily surprised and even a bit confused. This thin and stretchy wrap seemed to have a spongy cush on my shoulders and the stretch never became sag. Wearing my toddler comfortably for long periods was totally possible, something that I had not been able to do for quite some time with a thin wrap. And a ruck? No dig whatsoever! How could such a thin wrap have such a spongey feel? Magic!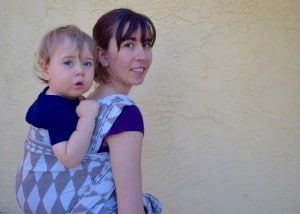 The stretch, subtle texture, and thinness made wrapping with Harlequin Revamped so easy. Passes glided into place and tightening with that lovely stretch and recoil was simple and amazing. Every wrap job was nearly perfect. I was even able to play around with a few finishes that had previously frustrated me.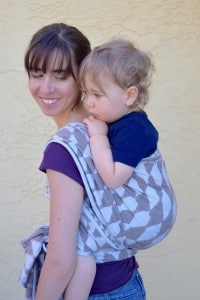 I would recommend this wrap to both beginners and experienced wrappers alike with any size child. It's easy to wrap with, thin, buttery soft, subtly textured, ace-bandagey, and yet super supportive. I was happily surprised that it shines in every carry, so any size would be perfect. Because this wrap is very airy, I would also recommend it to those that live in a warm climate. This could be an one and only wrap for anyone and I highly recommend!
Check out Poe Wovens here.