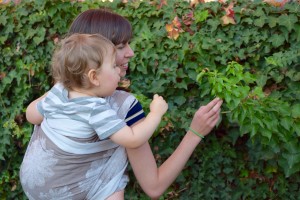 Poe Wovens is an American baby sling company that is owned by Nancy Sunderland, a U.S. veteran. I was fortunate enough to have tested two Poe Wovens wraps recently, you can read about the first one here. This is a review about a new wrap, called Tournesol.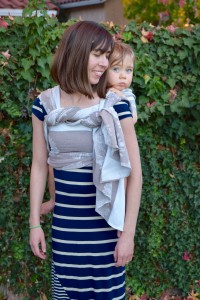 Tournesol is 100% mercerized cotton and also came to me as a loom state size 6. When I first opened the package, I noticed that it was floppy but a bit scratchy to the touch, although not nearly as much as other loom state wraps. It felt very thin and I could tell that this wrap was also very stretchy. After a bath, dry, and steam iron, it softened up quite a bit. I only was able to play with this wrap for four days, but it became so soft, so quickly, that I knew that this wrap has the potential to be buttery soft.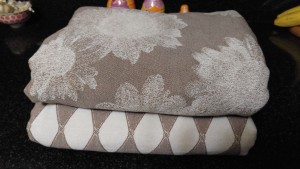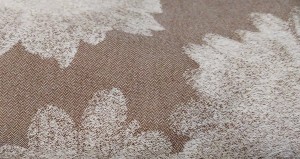 The wrap is in the "rye" colorway, which is a warm chestnut brown. Being someone who loves color, I am not a huge fan of neutral wraps, but this neutral is really beautiful and different from all of the other browns and "natty"s out there. The top rail has a nice, thick of the reverse of the wrap which was one of my favorite parts. It not only looks beautiful to have a thick white border, but it makes it much easier to wrap with differing rails. As if it wasn't gorgeous enough, it is adorned with various size flowers, which is what makes the wrap truly special. The flowers are not just a pretty design, the intricate weave creates a pleasing texture that juxtaposed the silky smoothness of the rest of the wrap. I instantly thought of other specially textured wraps like Pavo's Static.The flowers added a fair amount of grip to the wrap, but it was not at all difficult to wrap with. Passes glided into place, but never slipped. Tournesol is a work of textile art.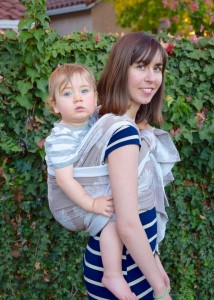 As someone who is wrapping a 30 pound hefty and squirmy toddler, I almost always grab wraps that are wide and thick. Tournesol is very thin and has quite a bit of diagonal stretch so I wondered how it would feel with my big boy. After the easiest wrap job ever, there was no sag or dig at all. There also seemed to be a mysterious spongy cush that I had felt with Poe Wovens Harlequin Revamped. In fact, in terms of wrapping qualities, the two are nearly identical. But the flower design is so unique on Tournesol, that it feels so incredibly different in texture.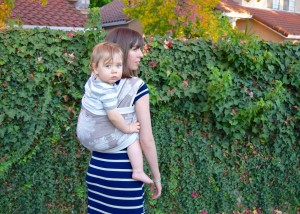 I would recommend this wrap for both beginners and experienced wrappers with any size child. It is thin and soft enough for a squish but supportive and comfortable enough for a big toddler. The border on the top rail makes it a great wrap to learn with. Tournesol's unique design will make any serious wrapper or textile enthusiast swoon. This is a fantastic wrap, and any size for any level of experience will make a great choice.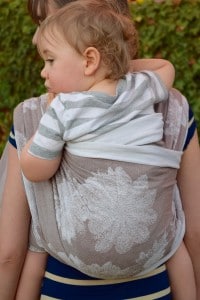 Check out Poe Wovens here.