With pumpkin season coming to a close and peppermint season beginning, I'm trying to get as many pumpkin treats in as possible. But with a toddler, I don't always have time to make everything from scratch. I try to keep everything as close to whole foods as possible, but sometimes a box of a premade mix is a yummy quick fix. Luckily, Trader Joe's offers some of the healthier premade food that I have found.
I love, love, love Trader Joe's. It's cheap, has the yummiest premade foods, super friendly staff, and did I mention cheap? By shopping at Trader Joe's and Sprouts Farmer's Market, I have saved soooooo much money on groceries. It's also fairly simple to find vegan premade options, such as the Japanese Style Fried Rice or Orange Chickenless Bites. And, around the holidays, they start offering pumpkin filled goodness. However, much of it has milk. Their bread mix may not be the healthiest option (it has sugar and soybean oil…) but it's a lot better than some of the alternatives I found. Sometimes a bit of indulgence is necessary. But this tempting box of Pumpkin Bread and Muffin Mix? It called for egg! What's a vegan girl to do? Just replace the eggs and make it even better!
So as I was thinking about ingredients that could replace eggs, I realized the pureed pumpkin is an egg replacer, as well as an oil replacer! So instead of two eggs and 1/2 cup (that's so much) of oil, I could use 2/3 cup pureed pumpkin for the eggs and 1/3 cup pumpkin + 2 tablespoons of oil. I ended up with super moist, very pumpkin-y goodness. This veganizing thing isn't too hard, perhaps Julia Child's cookbooks are next? 😉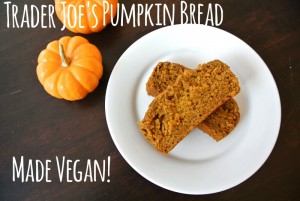 Trader Joe's Pumpkin Bread…Veganized
Ingredients:
-1 box Trader Joe's Pumpkin Bread and Muffin Mix
-1 cup of water
-1 cup pumpkin puree
-2 Tbsp coconut oil
-Optional: chocolate chips 😉
Directions:
1. Preheat oven to 350 degrees F.
2. Mix ingredients thoroughly.
3. Pour into bread pan (about 9×5)
4. Bake for 60 minutes. When cooked through, let cool for 10 minutes and serve!