I was just having a discussion with my husband on the fact that rice is the perfect food. We discussed this over a plate of basmati rice, as were enjoying a rare date night at a local Indian food restaurant. It's applicable in nearly every cuisine and is suitable to any type of savory or sweet dish. Rice is also delicious, filling and satisfying. We each had our favorite rice dish, his being fried rice, and mine being risotto.
Cooler and darker evenings call for warm, rich, and filling meals. The perfect chilly night dish? Risotto. It's a bit scary to some as if cooked incorrectly at all, won't come out right. Risotto is very easy to make, but it does require quite a bit of attention. The secret to deliciously creamy and tender risotto? Constant stirring and gradual liquid absorption. When you "beat" the rice, it releases all the starches which bind the rice and make it creamy. In fact, creamy and rich risotto requires no cream, milk, or cheese to achieve that consistency. Just some extra love and attention will cook the rice to creamy perfection.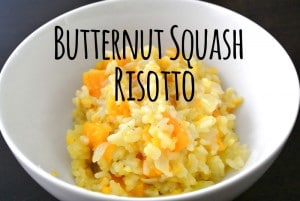 Butternut Squash Risotto

Ingredients:
-about 2 cups roasted butternut squash, diced*
-2 cups Arborio (or short grain rice)
-6 cups vegetable broth
-1/4 cup dry white wine (chardonnay is great but even vermouth will do)
-2 Tbsp vegan butter (Earth Balance)
-1 Tbsp shallot, finely chopped
-3 cloves garlic, finely chopped
-salt and pepper to taste
-optional: chopped sage
Directions:
1. Saute the onion and garlic in the butter until the onion is translucent and tender. Add the rice and cook for a few minutes. If you are adding sage, add now.
2. Pour in the wine and cook until completely absorbed, stirring frequently.
3. Stir in the butternut squash.
4. Add the vegetable broth no more than one cup at a time. Stir frequently, adding the remainder of the broth after the rice completely absorbs the liquid. As you stir, roughly smash the squash so that it blends with the rice and broth.
5. Once the liquid is absorbed, the rice will be tender and creamy. Taste and add salt and pepper according to your taste, but it won't need much if the broth is salty.
*To roast butternut squash: Preheat oven to 375 degrees F. Cut squash in half and scoop out the seeds/guts. Roast cut side up for about an hour and let cool before handling. Remove skin and chop up 🙂