Most of the time, we have leftovers for lunch. It's easy to just heat up a meal that I know already has vegetables, protein, and grains and will be filling enough to last us until dinner. But sometimes, there aren't any leftovers. With an energetic toddler who gets cranky when he's hungry, I don't have time to make an elaborate meal. Plus, I don't particularly like to clean up the whole kitchen for both lunch and dinner, so something easy, fast, and quick is essential.
When I was a kid, my mom would make me a grilled cheese as a fast lunch on weekends. I've tried some vegan cheeses in a "grilled cheese", and to be honest, they are not that good. Most vegan cheeses are super processed anyway, and not the best thing to eat on a regular basis. I really think that avocado is a better cheese alternative, it's rich and creamy and much more healthy. Tomato and hummus go perfectly with it to create the ultimate flavor trifecta. This sandwich really hits the spot when we are hungry for lunch on a cool day. It's not exactly a grilled cheese, but I think it's even better.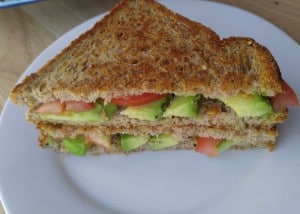 Grilled Avocado and Tomato Sandwich
makes 2 sandwiches
Ingredients:
4 slices bread of your choice (we like Ezekiel)
1 avocado, cut into slices
1 tomato, cut into slices
4 Tbsp hummus
Salt and pepper
2 Tbsp vegan butter or coconut oil
Directions:
Spread 2 Tablespoons of hummus on one slice of bread, repeat on a second slice. Arrange half the avocado on each slice of bread, over the hummus. Arrange the tomato over the avocado.
Sprinkle with salt and pepper and cover each slice with the last two slices of bread, making two sandwiches.
Heat oil in a pan over medium heat. Add the sandwiches one and a time and cook until each side is golden.