There are nights when the sound of cooking just sounds so tedious. Nights when the toddler is pulling at my pant leg because he hasn't napped at all and is suddenly starving. Sometimes we order take out, but that's not exactly the best choice for our wallets or our health. It's nice to just throw everything in one pot so I can focus on other things while dinner is cooking.
Come to think of it, every night around 5 pm is tough when you have kids. For us, it's the most stressful part of day. The dogs need to be fed, the toddler is cranky and hungry, my husband is getting home from work. There's always a lot going on and 5 pm always seems to sneak up on us. I've tried prepping dinner earlier, which helps, but most days I'm just too busy to start early. And naptime? I always laugh when people suggest that I start dinner during naptime. No, naptime is sacred. It's the only time of day I can just sit.
This dish, to be honest, is a result of just using what I had in the pantry. It's very simple, very healthy, and absolutely delicious. Even my husband, who is very picky about dishes he likes, helped himself to a second bowl. Plus the toddler enjoyed all the colorful vegetables and beans in his quinoa. This will probably be making a regular appearance on the weeknight meal plans.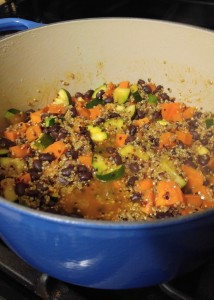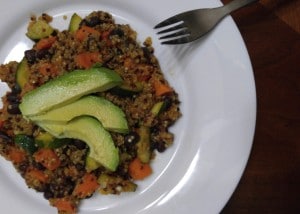 One Pot Vegetable Quinoa
Ingredients:
1 cup quinoa
2 cups vegetable broth
3 cloves garlic
1 cup diced sweet potato
1 medium zucchini, diced
1 can drained and rinsed black beans
1 tsp chili powder
2 Tbsp extra virgin olive oil
Salt and pepper to taste
Avocado and nutritional yeast for serving
Directions:
Heat the oil in a large pot or dutch oven over medium heat. Add the diced sweet potato and garlic, stir and cover. Continue to stir every few minutes and re-covering. Cook for about 10 minutes.
Add the zucchini, quinoa, black beans, chili powder, and salt and pepper and stir well. Pour in the broth.
Bring to a boil and turn the heat down to medium low. Simmer for about 20 minutes, or until the broth has absorbed and the quinoa is soft.
Top with nutritional yeast and avocado slice and serve.