Growing up, my mother always made sides like roasted vegetables, salads, and potatoes. I wonder how she was always able to seemingly whip up a meal with multiple components in such a short time. And this all while chasing a young child and helping her two older children with homework and constant sibling bickering. With one toddler, I can barely get one thing on the dinner table, and that's after over an hour of cooking and having to pause to care for him. I'm still waiting for the big secret or magical dinnertime fairy dust.
I'm all about dishes that are an entire meal in themselves. This is why I love pasta dishes and burrito bowls, the whole meal is in that one serving. Mostly I like meals like this because it's easier to focus on one recipe. There have been many times when I forget about something in the oven because I'm tending to a different course. But sometimes, it's nice to have a side dish. Add a side of vegetables to a meal and suddenly it's fancy and complete.
So if you're feeling fancy, try out this very easy recipe, it'll make a peanut butter sandwich seem polished.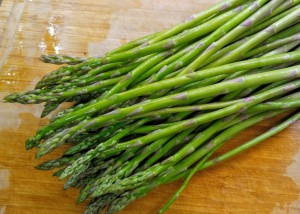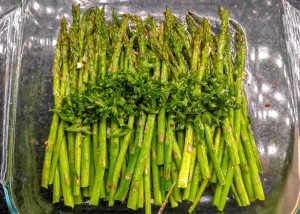 Roasted Asparagus
Ingredients:
1 bunch asparagus, about 2 cups
4 Tbsp extra virgin olive oil
3 cloves garlic, minced
1 tsp Italian seasoning
salt and pepper to taste
1 Tbsp lemon juice
2 Tbsp fresh parsley, finely chopped
Directions
Preheat oven to 400 degrees. Cut the tough ends of the asparagus off.
In a casserole dish, mix the asparagus with the olive oil, garlic, Italian seasoning, and salt and pepper.
Bake for about 25 minutes or until tender (not mushy). They will be very slightly crunchy.
Drizzle on the lemon juice and mix in the parsley. Serve!