There's something about the holidays that makes me think of cookies. Maybe it's Santa or the smell of cinnamon or the office cookie swaps or the fact that I grew up on Italian cookies. Whatever it is, cookies are an absolute necessity for the winter holidays. I'm particularly fond of cookies like gingerbread or snickerdoodles around this time because of the rich and spicy smell as they bake. It matches perfectly with the smell of pine and the coolness of the air.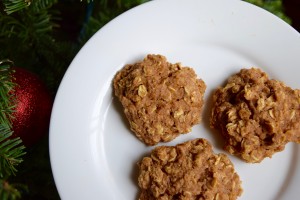 Over the weekend, we had some family visiting and my sister in law made an absolutely divine sangria with spiced apple cider. Spiced apple cider has such a wonderful, deep flavor that I really wanted to capture that into a holiday cookie.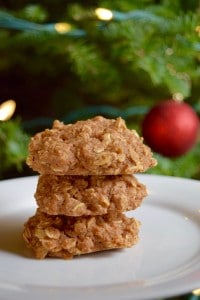 Now, the problem my husband and I have had with the holidays over the past few years is the fact that we have been avoiding refined sugar. It gives my husband terrible migraines and just isn't a great thing to eat anyways. But with all of the sugary treats everywhere, it's nice to have a sugar free dessert to be able to enjoy.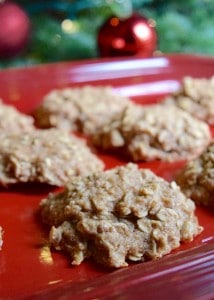 These spiced apple cookies taste just like spiced apple cider and are made with whole and healthy ingredients. Chopped apple, chocolate chips, or nuts would be a great addition to these cookies as well. The secret to the soft and fluffy texture is spelt flour, which is full of nutrients and easy to digest. Paired with chewy oats and plenty of spiced apple flavor? Amazing. These cookies may be a new holiday tradition around here.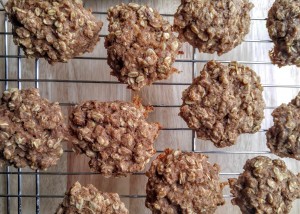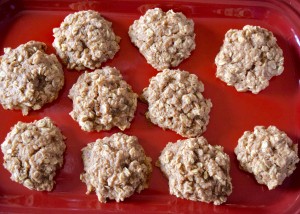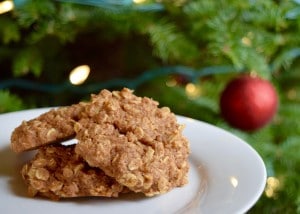 Spiced Apple Cookies
Ingredients:
1 cup spelt flour
1/2 tsp baking powder
1/2 tsp salt
1 cup oats
1 tsp cinnamon
1/4 tsp nutmeg
1/2 tsp ginger
3/4 cup unsweetened applesauce
1/2 cup maple syrup
1/4 cup coconut oil
1 tsp vanilla extract
Directions
Preheat the oven to 350 degrees F and either grease a cookie sheet or a line it with a silicone mat or parchment paper.
Mix the flour, baking powder, salt, oats, cinnamon, nutmeg, and ginger in a large bowl.
In a separate bowl, mix the maple syrup, vanilla and applesauce until combined. Melt the coconut oil and whisk into the apple and syrup mixture.
Pour the wet mixture into the dry and mix well. Scoop spoonfuls of the dough (it will seem a bit runny, but it holds together fine) onto the cookie sheets.
Bake for 25 minutes, until they are golden brown and firm to the touch. Let cool on a cooling rack for 10 minutes before serving. *Or eat them right out of the oven, like me!