Scones are one of my favorite breakfast and brunch items. But most recipes that I find are either not vegan or packed with sugar and covered with frosting. Especially for my family, it's nice just to have a simple scone recipe that I can use that doesn't have sugar. Plus, I can add whatever I have on hand to the batter, like blueberries or chopped apple.  And, because I make them often, a great midnight snack. But scones can often be overly crumbly and dry. I like my scones to be crumbly, of course, but they need to have a soft, moist fluffiness.
The secret to this, without adding too much oil or butter, is applesauce. Applesauce makes a regular appearance in my baking around here because it adds moisture, which is needed when using whole wheat flours. It also adds sweetness which reduces the amount of sweetener that I need to add. The other secret to the perfect scone? Using a blender to disperse the butter or oil into the dry mixture. It is very important that the fat stays cold so as to create crumbs and frankly, I don't own a pastry cutter. A blender is quick and gets the job done better.
These are absolutely delicious as is, but are also great with additions like chopped apple, chocolate chips, currants, raisins, and nuts. The perfect, crowd-pleasing scone for a weekend breakfast or brunch.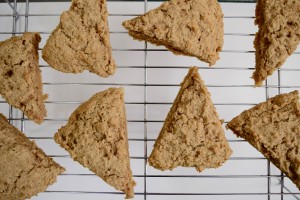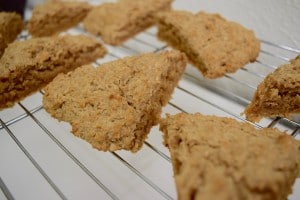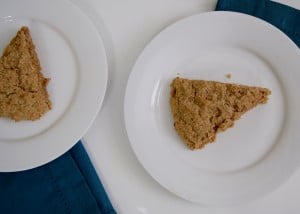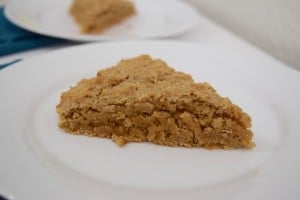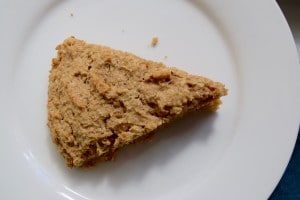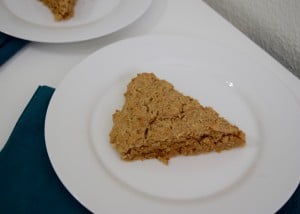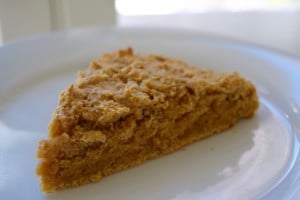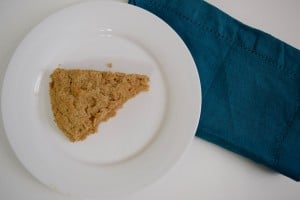 Simple Scones
Ingredients:
2 cups whole wheat pastry flour
2 1/2 tsp baking powder
1 tsp cinnamon
1/2 tsp ginger
1/2 tsp salt
1/4 tsp nutmeg
5 Tbsp vegan butter or coconut oil, cold
3/4 cup applesauce
1/3 cup almond milk
1 Tbsp maple syrup
1/2 tsp vanilla extract
Directions:
Preheat oven to 415 degrees F. Line a baking sheet with parchment paper or a silicone baking mat.
Mix the flour, baking powder, cinnamon, ginger, salt, and nutmeg in a bowl. Transfer to a blender and add the butter. Pulse until the mixture is crumbly.
Mix the applesauce, milk, maple syrup, and vanilla in another bowl.
Pour the dry mixture from the blender back into the first bowl. Add the wet mixture. Stir until combined, but do not overmix.
Form into a round mound on the baking sheet. Flatten to about 3/4 inch thick. Using a knife, cut into pizza-like slices, a total of eight.
Bake for 20 minutes. When the time is up, recut the slices and cool on a baking rack. Serve warm with butter and jam.