I love spaghetti squash but I feel like I never know what to do with it. I've tried to use it as a spaghetti substitute, but it's not quite filling enough for an entree. And fancy sauces either clash with the subtle sweetness of the squash or overpower it's lovely flavor. The absolute best way to eat spaghetti squash? As a simple but delicious side with flavor enhancers like garlic and herbs.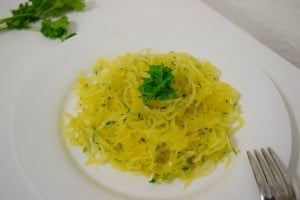 Spaghetti squash is super fun, especially for little ones, because of it's noodle like texture. It's a great way to get in a healthy vegetable, especially in the fall and winter when all we want to do is drink hot cocoa and eat cookies. This spaghetti squash is the perfect compliment to any Italian dinner or carb and protein heavy entree. Or, as I discovered, it makes an awesome midnight snack. I used parsley to brighten up the sweetness, but herbs like basil, thyme, or sage would be excellent as well.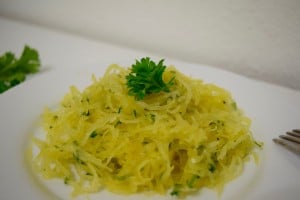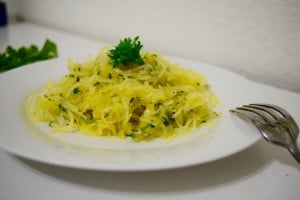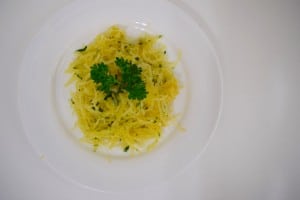 Garlic and Herb Spaghetti Squash
Ingredients:
1 medium spaghetti squash
3-4 Tbsp extra virgin olive oil
3 cloves garlic, minced
1/4 cup chopping parsley (sub with basil if you aren't a fan of parsley)
salt and pepper
Directions:
Preheat the oven to 400 degrees F. Poke several holes in the squash with a knife and place on a baking sheet. Bake for about 1 hour to 1.5 hours, until it is soft.
When the squash has cooled a bit, cut in half and scoop out the seeds. Using a fork, scrape out the flesh and transfer to a bowl.
In a saute pan, heat the olive oil over medium-low heat. Add the garlic and saute until fragrant and beginning to soften. Add the squash, salt, and pepper and saute for about 5 minutes.
Add the parsley (or basil) and stir until incorporated. Transfer back to a bowl and serve immediately.