We eat a lot of pasta around here. Growing up with Italian family, it's no surprise that pasta was a something that was on our plates frequently. A good source of grains and protein, it's versatile and the perfect base for a variety of sauces and toppings.
One of my favorite ways to eat pasta is with a simple mixture of roasted vegetables and garlic. It allows for the enjoyment of the flavor of each individual ingredient, rather than everything combined in a sauce. And using mushrooms and tomatoes creates a delicious cooking liquid that ties everything together. The addition of beans gives the creamy texture and flavor that balances the acidity of the tomatoes and boosts the protein content.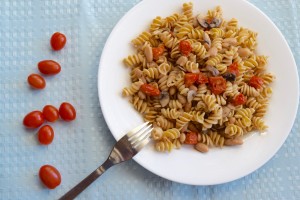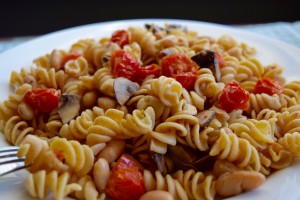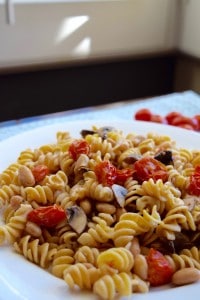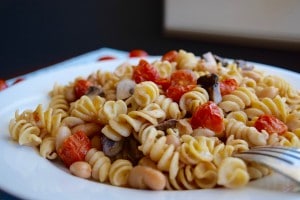 Pasta with Tomatoes, Mushrooms, and Cannellini Beans
Ingredients:
1 lb pasta, like fusilli
1 cup cherry tomatoes, cut into halves
1 cup mushrooms, sliced
1 can cannellini beans, drained and rinsed
3-4 cloves of garlic, minced
2 tsp Italian seasoning
4-5 Tbsp extra virgin olive oil
salt and pepper
Directions:
Cook pasta according to package directions. Preheat oven to 375 degrees F.
Mix the tomatoes, mushrooms, beans, garlic, seasoning, and salt and pepper in a baking dish. Bake for about 30 minutes.
Pour the vegetable mixture, including the cooking liquid, over the pasta. Drizzle with extra olive oil. Serve immediately.