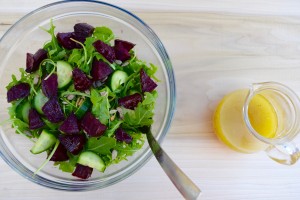 With such a deep and vibrant color, beets can really make turn any dish into something beautiful and delicious. Plus, beets are one of the healthiest foods that you can eat, full of nutrients like folate, manganese, potassium, fiber, vitamin c, iron, and vitamin b6. Luckily, they are also among Dominik's favorite vegetables.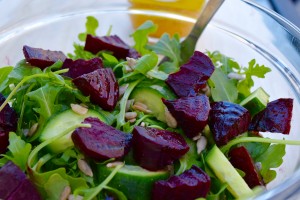 Healthy root vegetables like beets are a great food to eat in the winter to boost health, especially with holiday stress and all the cookies. I upped the nutritional value of the meal by adding arugula, sunflower seeds, cucumbers, and a citrusy orange vinaigrette. That is one healthy meal. Keep those winter germs at bayby nourishing your body with this nutrient-packed super salad.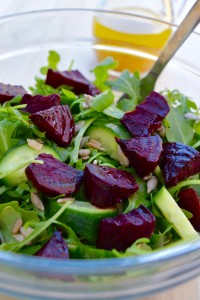 It's been chilly around here lately, and the toddler has been throwing some epic tantrums, so a bright and healthy salad is just what we needed. I definitely felt my energy increase after eating this for lunch, and the toddler enjoyed it as well.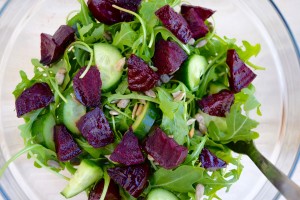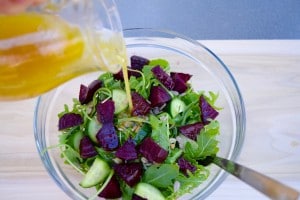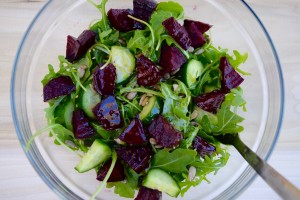 Arugula Salad with Roasted Beets and Orange Vinaigrette
Ingredients:
3 medium beets, peeled and diced
3 Tbsp olive oil
4-5 cups arugula
1/4 cup sunflower seeds
1/2 cup cucumbers, diced
Orange Vinaigrette, recipe below
Directions:
Preheat the oven to 400 degrees F. Toss the beets in olive oil and bake in a casserole dish for about 40 minutes, until soft. Let cool completely; chill if possible.
Toss all salad ingredients in a bowl, drizzle with the orange vinaigrette, and serve immediately.
Orange Vinaigrette:
Ingredients:
1/4 cup extra virgin olive oil
1/4 cup orange juice
2 Tbsp apple cider vinegar
2 tsp orange zest
salt and pepper
Directions:
Whisk ingredients until emulsified. There will be some separating so mix well before adding to salads.
Enjoy!