This is a review of a rocker balance board, this particular one by Camden Rose. You can find it here.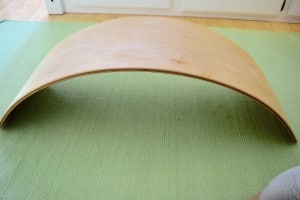 Camden Rose is a toy and play furniture company company that sources it's materials and makes everything here in the United States. They only use safe and natural materials like wood, wool, cotton, and silk and focus on quality open-ended items. We have several of their toys and each on is beautiful and well made. There are many other companies that make balance boards for kids, but I chose Camden Rose because I trust their safety and quality.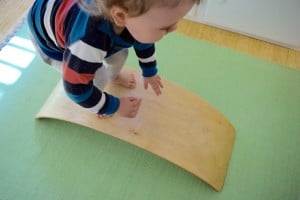 The board is basically just a big plank of wood that has been bent into shape. It comes in two sizes, small and large. We got the large one. The cherry wood is very smooth and incredibly beautiful. It's finished with linseed oil and there are no rough spots or splinters. It can handle quite a bit of weight: the small can handle 150 pounds, and the large has a weight limit of 180 pounds. Both my husband and I have used it quite a bit to show Dominik different ways to use it, and it's handled both of our weights.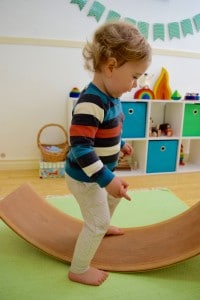 Dominik was immediately drawn to as I pulled it out of the (large) box. At first, he just explored it, rocked it with hand, and crawled under it. He also enjoyed putting other toys onto the board and watching them rock and roll. After I showed him how to rock on it and climb to the top, we spent a good amount of time happily playing with it. It's definitely the perfect indoor jungle gym for energetic toddlers.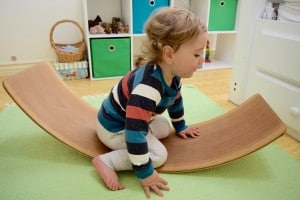 Dominik is still a bit young for this toy, and I only pull it out when I can be right there to catch him if he falls. But this board will definitely last through many developmental stages because of it's open-ended quality. It can be a bed, a fortress, a cradle, a surfboard, a mountain, a car ramp, a house, a bridge…the list goes on and is only limited by a child's imagination.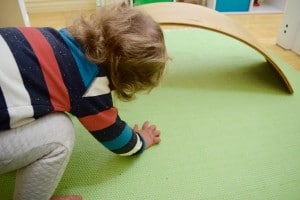 The rocker board is not just an awesome toy, it's also a great tool in the development of motor skills and balance. Balancing on either side promotes development in a child's vestibular system, which is what helps them to balance. Rocking and climbing also helps muscles in the arms, legs, hands, ankles, and feet to grow properly. This is all creating essential connections in the brain to ensure proper motor function and movement.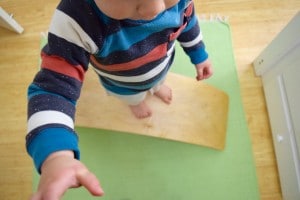 The rocking balance board is $135, which seems like quite a bit for a toy, but it's worth every penny. It supports small and local business, which is a huge bonus, but I would also call it the ultimate open-ended toy. It's versatility and ability to last throughout the years makes this an awesome investment.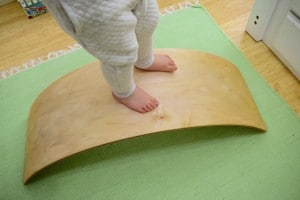 Find it here: http://www.palumba.com/camden-rose-rocker-balance-board-large-cherry.html