Homemade ornaments, in my opinion, are the best kind of tree ornaments. The love and care that is put into them, as well as their uniqueness, make them special. Especially when personalized with a date or made by your kids, handmade ornaments are usually ones that you treasure forever. My mom's tree is full of them and I hope to fill mine with crafted ornaments as well.
I've got the cutest ornament for you to make and I've included the free printable template. It's also super easy. This is how to make it:
Start with a printed out template, felt, thread, a needle, some scissors, and a piece of ribbon tied into a loop. For the felt, you need 2 colors of your choice plus white and orange.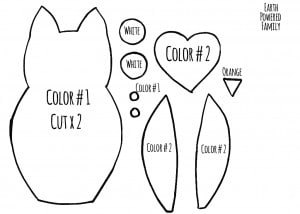 2. Using the template, cut out the felt. You need two of the big owl outline, two white eyes, two color eyes, the heart, two wings, and the beak.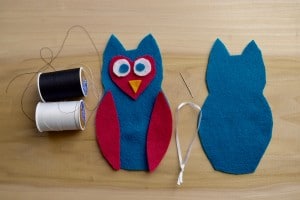 3. Using the white thread, sew on the wings and heart (face) first. Then sew on the white of the eyes and the beak. Finally, using the black thread, sew the pupils. This will secure the color part of the eyes onto the white part. The color of the threads can be changed. Also, for a super quick version, just use hot glue.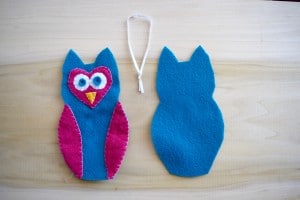 4. Sew the front of the owl onto the back. At the top of the owl's head, sew on the ribbon loop. The knot should be on the inside of the owl's head, with the loop sticking out. That's it!