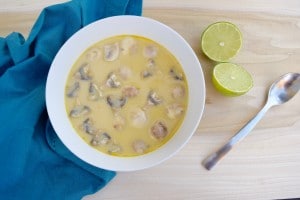 Thai cuisine is very dear to my heart. My husband and I had our first date at a local Thai restaurant and we continue to get Thai food on special occasions like birthdays and anniversaries. Thailand is on our dream vacation list, as well.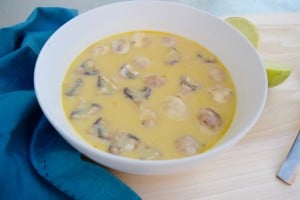 I've tried to make various Thai dishes in the past, each one failing miserably. An Italian girl who is used to semolina flour pasta just can't get the hang of rice noodles apparently. And so, I tried to make Tom Kha Gai, using vegan ingredients. I haven't had this soup since I went vegan many years ago and have missed it terribly. This version did not disappoint. My husband, who is not completely vegan and regularly gets this soup, was very happy with the results of my kitchen experimentation. This soup really is out of this world delicious. Plus, it makes a great cold buster soup. Ingredients like lime juice, ginger, broth, and coconut milk will have you feeling your best in no time.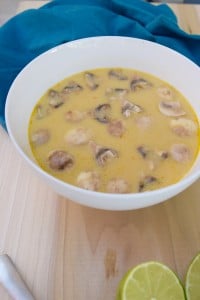 I debated whether or not I would call this Vegan Tom Kha Gai or just coconut lime soup because it's not exactly traditional. I tried to keep the same sweet and sour flavors as well as the same consistency, but this is an americanized and vegan version of the original. It is usually made with a strong chicken stock and chicken. Also, it uses galangal and kaffir lime leaves instead of ginger and lime zest. If you have the traditional ingredients, replace the ginger with sliced galangal and the lime zest with 4 or 5 kaffir lime leaves. This soup should be served with rice and a protein like tofu cubes. I like to mix everything right in the bowl.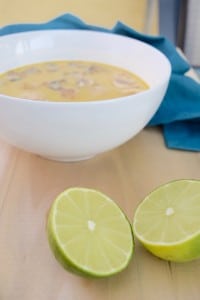 Vegan Tom Kha Gai
Ingredients:
4 cups vegetable broth
1 can coconut milk
1 stalk lemongrass
1 inch piece ginger, minced
2 tsp lime zest
1 cup mushrooms, quartered
juice of 1 lime (2 limes if they are on the drier side)
2 Tbsp soy sauce or 1 Tbsp tamari
Optional: 2-3 Thai chiles, smashed
Directions
Cut the lemongrass into 1 inch pieces and smash with something like the bottom of a glass.
Mix the broth, coconut milk, lemongrass, ginger, and lime zest (and chilies if you are using them) in a large pot and cook over medium low heat. Lightly simmer, do not boil or raise heat too high, for about 30 minutes.
Add the mushrooms, lime juice, and soy sauce. Gently stir and continue to cook for an additional 15 minutes or so, until mushrooms have softened.
Serve hot with rice and tofu.