I'm a bit of purist when it comes to dessert. It really has to be plain chocolate to be perfect for me. I mean, different desserts with varying flavors are fine and all. But chocolate is the perfect dessert and everyone needs a good chocolate cupcake and chocolate frosting recipe.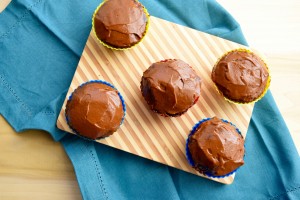 First, let me explain why my fridge is now overflowing with chocolate cupcakes, many with different chocolate frostings. I experimented quite a bit to find the perfect recipe. Some were too dry, others too moist. Some of the frostings were too sweet. Some turned into a great big mess. And then it happened…the perfect chocolate cupcake.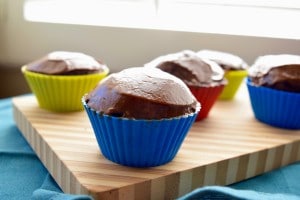 This chocolate cupcake is moist, yet fluffy and light. It's rich but not too sweet. Vegan and free of refined sugar? Yes, please! And the frosting has the perfect consistency thanks to avocado, which is an idea I have seen floating around on pinterest in a variety of recipes. I may need to make chocolate cupcakes a regular weekly menu item.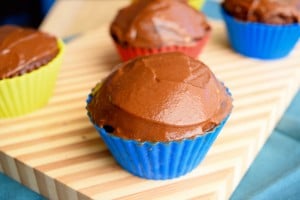 Vegan Chocolate Cupcakes
Ingredients:
1 and 1/2 cups whole wheat pastry flour
1/3 unsweetened cocoa powder
1 tsp cinnamon
3/4 tsp baking powder
1/2 tsp baking soda
1/2 tsp salt
3/4 cup almond milk
1 tsp apple cider vinegar
3/4 cup maple syrup
1/3 cup coconut oil
1 tsp vanilla extract
Directions:
Preheat oven to 350 degrees F and fill a cupcake pan with liners. In a small bowl, mix the almond milk and vinegar. Let it sit and curdle.
In a large bowl, mix the flour, cocoa powder, cinnamon, baking powder, baking soda, and salt.
In a separate bowl, mix the maple syrup, vanilla, and coconut oil. Make sure all the liquids are melted and warm or the coconut oil will harden. Mix in the almond milk and vinegar mixture, again making sure it is warm.
Pour the liquid into the dry mixture and stir well. Pour into the cupcake pan, filling each liner 3/4 way up.
Bake for about 15-20 minutes, until a toothpick comes out clean and it is cooked through.
Frost with chocolate frosting (recipe below) or frosting of choice.
Chocolate Frosting
Ingredients:
2 ripe avocados
1/4 cup maple syrup
1/4 cup cocoa powder
Directions:
Put the flesh of the avocado, maple syrup, and cocoa powder into a blender or food processor and blend until smooth and creamy.
Frost the cupcakes!