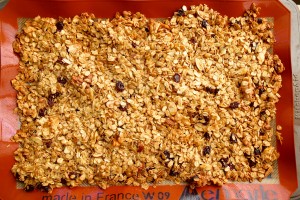 Every time I make granola, I wonder why I don't make it more often. It's so easy to make and really difficult to mess up. It's components are simple: oats, nuts/seeds, dried fruit, oil, and sweetener/flavor enhancers. Details can be changed to create special flavors and mixtures and the combinations are really up to the cook.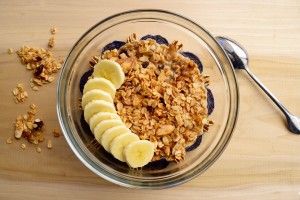 It's awesome as a breakfast, with almond milk or coconut yogurt and topped with fresh fruit. But I love to keep it in a big jar for snacking on throughout the day as an energy booster or in a bag in my purse for a quick snack on the go.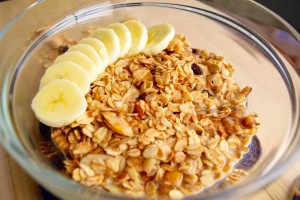 This is just a simple, basic granola recipe, something that I think everyone needs. It's super easy, toasty, and delicious.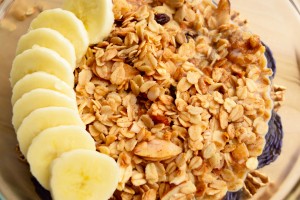 Basic Granola
Ingredients:
4 cups rolled oats
1/2 cup sliced almonds
1/2 cup sunflower seeds
1/2 cup raisins
1/2 cup walnuts
1 tsp cinnamon
1 tsp salt
1/4 cup maple syrup
1/4 cup coconut oil, melted
Directions:
Preheat the oven to 325 degrees F. Line a baking sheet with parchment paper or a silicone mat and brush with coconut oil.
In a bowl, mix all the ingredients very well. Spread onto the baking sheet, gently pressing down.
Bake for 10 minutes, then lightly stir the mixture. Bake for an additional 10 minutes. Let cool before storing.