Cake? For breakfast? When it's this healthy and this delicious, absolutely!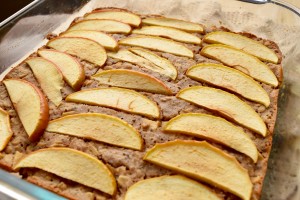 This breakfast cake is gooey and sweet and filled with pieces of apples, just like apple pie. And unlike pie and cake and other sweet breakfast foods, this has no refined sugar and is packed with healthy ingredients like apples, oats, and chia seeds.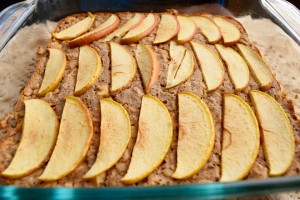 I'm not much of a savory breakfast person, but I try not to overdo it with the sweet breakfasts. If I had it my way, I would totally eat cookies and cake every morning. Sometimes I do eat a few pieces of dark chocolate, but I reason with myself that it's for the caffeine and it's just like coffee. One of my favorite desserts, aside from chocolate, is apple pie.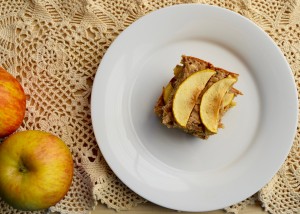 When I was a kid, we used to go into the mountains to pick apples. There's nothing quite like a fresh picked apple; they are sweeter and juicier than even the organic kind you find in the grocery store. The local bakeries around the orchards all serve amazing apple pie, and it's hard not to come home with a trunk full of pie and cider.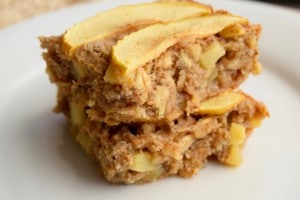 I wanted to replicate the gooey sweetness of apple pie, but for breakfast. So, using oats as a base, I went to work. This cake is delicious and I felt no guilt for eating half the pan in one sitting. At first, I had no idea what to call this creation. It was apple pie, although it tasted like it. I wasn't quite baked oatmeal either because of it's cake like consistency. So I settled on a breakfast cake.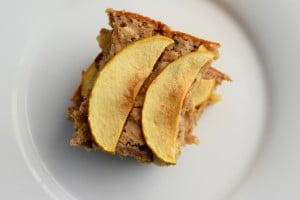 Organic or fresh apples are best for this recipe, particularly juicy varieties like fuji. Feel free to add some extra sweetness by drizzling maple syrup over the top after it is done baking.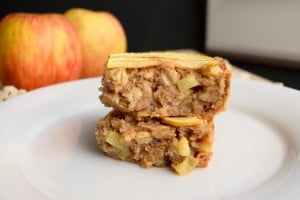 Apple Pie Breakfast Cake
Ingredients:
1 cup rolled oats
1 cup oat flour
1 and 1/2 tsp baking powder
1 tsp cinnamon
1/4 tsp nutmeg
1/4 tsp ginger
1/2 tsp salt
1 Tbsp chia seeds
1 cup almond milk
1/4 cup maple syrup
1/4 cup coconut oil
2 apples
Directions:
Preheat oven to 375 degrees F. Grease an 8 inch by 8 inch pan. Peel and finely dice one of the apples. Cut the other into thin slices.
Mix the oats, flour, baking powder, cinnamon, nutmeg, ginger, salt, and chia seeds in a bowl.
In a separate bowl, mix the almond milk, maple syrup, and melted coconut oil. Make sure all three of these ingredients are warm so the oil does not solidify.
Pour the wet mixture into the dry and mix well. Add the diced apples and stir.
Pour the batter into the pan and arrange the apple slices on top. Bake for about 40 minutes, or until a toothpick comes out clean and it is cooked through. Let cool for at least 10 minutes and enjoy warm.