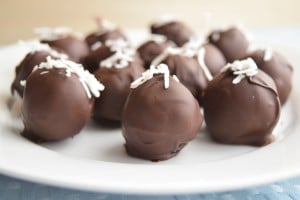 I've discussed my love of chocolate before and have been known to always keep some form of chocolate on hand. Bars of chocolate are quite a bit cheaper, so I don't usually splurge on chocolates like truffles. I have always been intrigued with the idea of making them.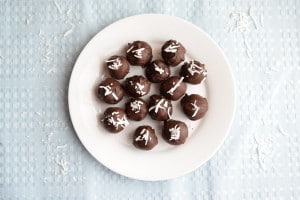 But I had some rules that I wanted to stick to: they had to be vegan and sugar free. Coconut cream is perfect for creamy desserts, but I worried that it would be too liquid, especially when it touched the warm chocolate of the outer shell. The solution just happened to be the perfect sweetener as well: dates. They add a ton of sweetness and keep the inner consistency of the truffle creamy and decadent.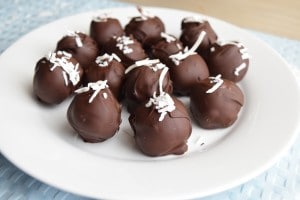 The outer shell is simply melted chocolate chips. My local health food store carries sugar free chocolate chips, which is perfect for my sugar free husband. But any chocolate chips will do for this recipe.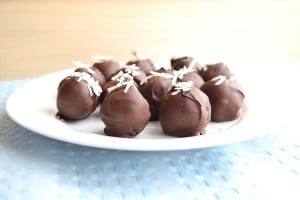 The coconut flavor matches perfectly with the chocolate and dates, but it's not very noticeable once the truffles are finished. These truffles are super easy to make and are soooo delicious, but they look like they took a ton of effort and skill. What a great hostess gift…or a late-night-chick-flick snack!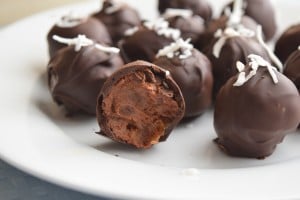 Chocolate Coconut Truffles
Ingredients:
10 medjool dates
1/4 cup coconut cream, top of the can, liquid separated
2 Tbsp unsweetened cocoa powder
1 cup chocolate chips, sugar free or regular depending on preference
4 Tbsp shredded coconut
Directions
Open the can of coconut cream. Scoop out the top; the firmer coconut. Leave out the water/liquid in the can. Soak the dates in hot water for about 10 minutes or so. Peel off the wrinkled skin and take out the seed.
In a food processor, mix the dates, coconut cream, and cocoa powder. Pulse to leave chunks of dates, or puree until smooth, whatever your preference may be.
Let harden in the fridge for at least an hour. Roll into half tablespoon size balls and freeze for an additional hour.
In a double boiler or microwave, melt the chocolate chips. Coat each truffle filling with melted chocolate and place on parchment paper. Sprinkle a little coconut on top of each ball.
Let fully harden in the fridge and enjoy!