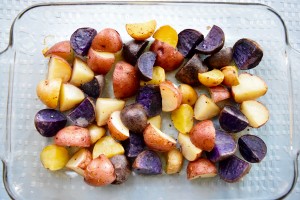 Today I wrapped everyone's gifts and it took all day. If you have never tried to wrap gifts with a toddler around, let me explain how it goes. I took out the gifts, then realized I needed to put them all out of his grasp when he tried to play with or throw each one. I stretched out the wrapping paper (well, grocery bags. I was reusing grocery bags or fabric scrap furoshikis) and Dominik, like a cat, stood on it and stared at me. After getting him off, he tried to grab the scissors. And then the tape. And then he would run away and started coloring the furniture. And so after a few boxes, I gave up and everyone is getting a gift bag.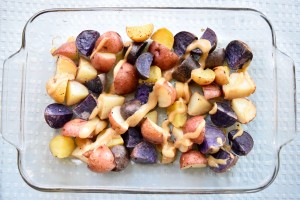 After a long day of toddler chasing, I don't want to spend too much time making dinner.  Trader Joe's has these bags of multicolored potatoes that were calling to me. I particularly love how each potato has a distant taste. And if you have never tried a purple potato, I highly recommend that you find some. Roasted vegetables are amazing, but sometimes I want a little something special. Tahini sauce brings a dish to that next level. And this sauce is creamy and tangy and perfect.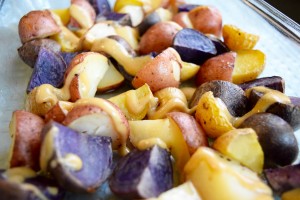 Roasted Potatoes with Lemon Tahini Sauce
Ingredients:
1 lb potatoes, cut into wedges
4 Tbsp olive oil
salt and pepper
Lemon Tahini Sauce *recipe below
Directions:
Preheat the oven to 415 degrees F. Put the potatoes in a large casserole dish and toss with olive oil, salt, and pepper.
Roast for 20 minutes, stir, and roast for an additional 20 minutes or so. Potatoes should be soft and golden.
Pour the Lemon Tahini sauce over the top and serve immediately.
Lemon Tahini Sauce
Ingredients:
1/4 cup olive oil
2 Tbsp tahini
2 Tbsp lemon juice
1/2 tsp salt
1 tsp Italian seasoning
Directions:
Whisk all ingredients in a bowl until fully combined and creamy. Use as a sauce or dressing.