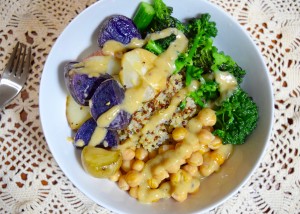 We eat a lot of leftovers around here. I like to make enough food so that Dominik and I have lunch ready the next day. Plus it's a way to stretch food and groceries. But I do get tired of eating the same thing too often, so I love being able to use leftovers in interesting and new ways. It makes it seem like there is a different meal with less effort because some of it is already made.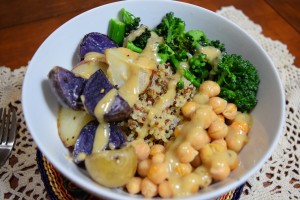 Enter the vegan bowl. An easy way to use leftovers and always super delicious and very healthy. It has it all: vegetables, grains, proteins. Add some sauce and it's even better. I used the Roasted Potatoes with Lemon Tahini Sauce from last night, but made some extra sauce. It has been a great way to pack in some extra nutrients before the next few days of sugar laden food and a few glasses of wine.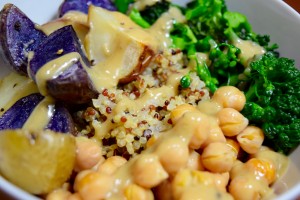 Ingredients:
1 cup quinoa, rinsed
2 cups vegetable broth or water
1 can chickpeas, drained and rinsed
2 cups broccolini, roughly chopped
4 Tbsp olive oil
Roasted Potatoes
Double batch of Lemon Tahini sauce
Directions:
Cook quinoa by bringing broth and quinoa to a boil and simmering until liquid is absorbed. Set aside
Preheat oven to 375 degrees F. Coat the broccolini with 2 tablespoons olive oil and salt and arrange on one side of a casserole dish. Coat the chickpeas with the remainder of the olive oil and a dash of salt. Arrange on the opposite side of the casserole dish. Bake for about 15 minutes.
Put all ingredients in a bowl and top with the Lemon Tahini sauce.