Last minute shopper? Need something fast and easy? Under $50? At your local drugstore or superstore like Target or Walmart?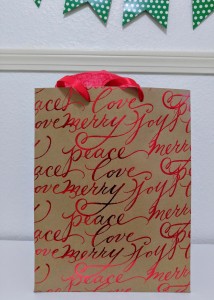 This is your list.
10 Last Minute Gifts:
"Spa Basket": Get a basket or bucket and fill it with things like lotion, soap, lip balm, loofahs, candles, etc. Easy and looks like you put a lot of thought into it.
"Foodie Basket": Like the spa basket, get a basket or bucket and fill it with stuff. Only this time, go for gourmet foods like fancy olive oil, balsamic vinegar, olives, and crackers. Or perhaps good coffee with spices and a mug. Or for people like me, a basket of good chocolate.
Homemade Gifts: Pinterest is full of recipes for homemade gifts in a jar, like a soup starter with beans and spices or a cookie mix. Some good ones are here at Good Housekeeping as well.
Batteries: Not the most exciting gift, but definitely useful. If they don't appreciate it now, they will when they open the "batteries not included" gift.
Booze: A good bottle of wine, a favorite liquor, or one of those gift boxes that includes two free glasses is always an appreciated gift for adults.
A Framed Photo: Many drugstores and superstores have somewhere to print out photos within the hour. Print out a favorite or two, put it in a frame, and wrap it up!
Books: Books are an amazing last minute gift for kids and are appreciated by parents. For grown-ups, cookbooks or humor are a good bet.
Socks, Scarves, and Gloves: Socks and gloves are things that always go missing and people always seem to need more. A useful gift is always a good gift. Scarves are always nice to have too and make a lovely gift.
Games: Games for kids like "Apples to Apples" or "Life" and games for adults like "Cards Against Humanity" will provide bonus entertainment. Or, a classic deck of cards and some poker chips will do the job.
The Good Ol' Gift Card: Gift cards are super easy and always enjoyed. Most grocery stores carry a wide array of them, so you can get specific to places like Sephora or Barnes and Noble or general like Target or Amazon.
Happy Holidays!