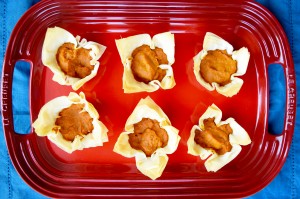 Since we have our big dinner on Christmas Eve, I wanted to have a sugar free dessert all ready for my husband. He loves pumpkin pie, but I was honestly too busy to try to make a pie crust and didn't want to brave the stores. Phyllo dough is perfect as a crust and it's very easy to use as it comes already made.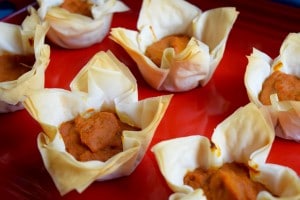 My husband loves pumpkin pie, but I'll admit I was a little selfishly motivated for this one. With fall behind us, I was feeling a bit sad that pumpkin season was over. So to give it one last "hurrah", I made a pumpkin dessert.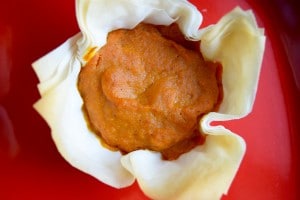 I left the corners on, honestly because my toddler was loosing patience with me and wanted lunch. Cutting the corners off into a more refined pie crust will look lovely, but I am happy with the way they turned out. They look like flowers with the corners on and are easier to hold and eat with one hand. Now to not eat them all before dinner!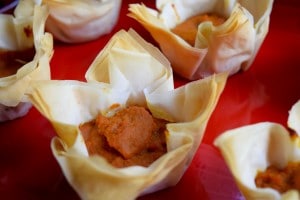 Mini Pumpkin Pie Tarts
Ingredients:
1 15 ounce can pureed pumpkin
1 Tbsp arrowroot powder
1/4 cup oat flour
1/2 tsp vanilla extract
1/2 cup non dairy milk
1/4 cup maple syrup
1 tsp cinnamon
1/4 tsp nutmeg
1/4 tsp ginger
1/2 tsp salt
5 sheets phyllo pastry dough
1/2 cup coconut oil
Directions:
Preheat oven to 350 degrees F. Grease a cupcake pan with coconut oil.
In a large bowl, mix the pumpkin, arrowroot, oat flour, vanilla, milk, maple syrup, and spices.
Cut the dough into 12 squares. I laid the stacked sheets horizontally, then cut it in half from top to bottom. I then cut them from top to bottom in half again. Each strip was cut into three squares.
Melt the coconut oil and brush it onto each layer and restack the squares. Press each square into a cupcake cup. You can leave the corners or cut them off. Fill each cup with a spoonful of pumpkin mix.
Bake for about 20 minutes, until golden brown. Let cool for 10 minutes on a cooling rack and let chill in the fridge for at least an hour.