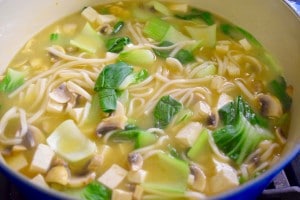 The past several days around here have been pretty busy. It's taken a while to get all of the toys and gifts put away, the gift bags packed up, the ornaments boxed, and the house put back into working order. We spent the holidays making the rounds to various family members, so we haven't had time to keep up the house.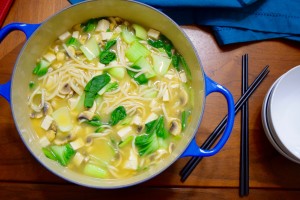 The answer to all of this cleaning and chaos has been soup. Warm and comforting, it's perfect for a cool night after a long day. Miso is particularly nourishing, being a fermented food. But it cannot be boiled, so it needs to be one of the last items added. This soup has it all and is a delicious one pot meal.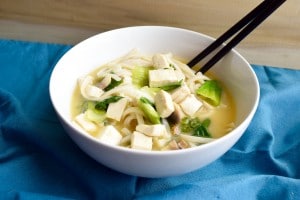 Miso Udon Soup
Ingredients:
4 cups vegetable broth
1 tsp ginger, minced
2 cups chopped mushrooms
1 cup chopped bok choy
1 block firm tofu, cut into small cubes
1 package of dry udon noodles
2 cups water
3 Tbsp miso paste
Directions:
Cook udon noodles according to package directions and set aside.
In a large pot, add the broth, ginger, mushrooms, and tofu. Bring to a boil and cook for several minutes until mushrooms are soft.
Reduce heat to low and stir in the bok choy until wilted. Turn off heat, add the water and then add the miso. Stir well until miso has dissolved.
Stir in the udon noodles and serve!