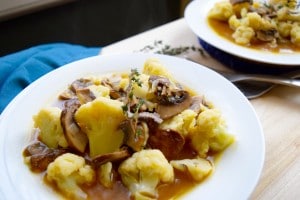 There are vegan dishes that try to replace meat-based meals that taste like replacements. Then then are vegan dishes that are even better than their meat-based originals. This is one of those.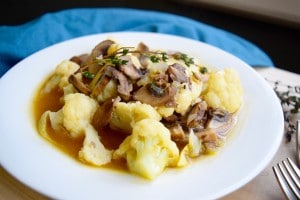 Never being a big meat eater myself, chicken or veal marsala was never a major item in my diet. But it is something that I once enjoyed my husband really missed. There is something so simple and delicious about a dish with a wine and mushroom sauce.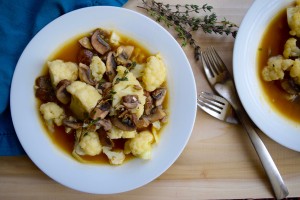 Cauliflower has a wonderful neutral flavor that pairs well with nearly anything. These beautiful white florets are really the heart of the dish, but the marsala wine really shines with the help of thyme and mushrooms. This meal feels like something you would get at a fancy restaurant and is an impressive date night meal. But, in fact, it's super easy and comes together quite quickly. Serve over a neutral grain like pasta or polenta and you've got the perfect romantic meal, even if it's a week night and the kids are home.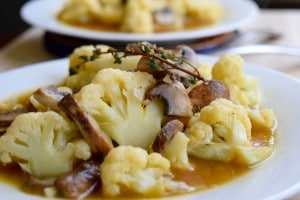 Cauliflower Marsala
Ingredients:
1 head of cauliflower, chopped into florets
2 cups sliced mushrooms
4 Tbsp vegan butter
2 Tbsp minced shallots
2 cloves garlic, minced
1/2 cup marsala wine
2 cups vegetable broth
4 sprigs fresh thyme
salt and pepper
Directions:
In a large saute pan, heat 2 tablespoons of butter over medium heat. Add the cauliflower and saute for about 5 minutes. Add the garlic and shallots and the remaining butter. Saute until fragrant, about 2 minutes. Season with salt and pepper.
Add the wine, thyme and the mushrooms and simmer until the wine has reduced by half. Add the broth and continue to simmer until the liquid has reduced by about half again.
Remove the thyme and serve immediately.