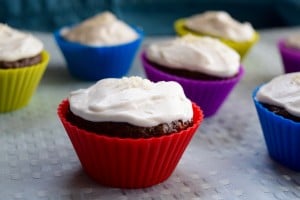 With all the talk of new year's resolutions, my mind keeps drifting back to things like chocolate and dessert. But sweet treats don't have to given up in order to eat healthy. When they are made of whole foods and free of refined sugar, they can be a delicious addition to a healthy diet.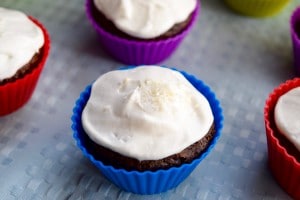 I've been playing around with different frostings because I want it to be sugar free. But the base of most seems to be powdered sugar, and a lot of it. And to top it off, I am very picky about frosting. Too much sugar and it's overpowering. Too much food coloring and it tastes artificial. Too much frosting on the cupcake and the cake gets lost. Frosting needs to be creamy, soft, sweet, and light.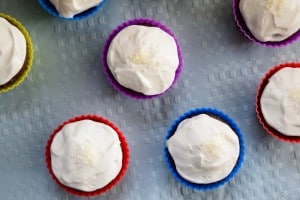 This is why coconut cream creates the perfect frosting. With the addition of a natural sweetener to an already naturally sweet ingredient, it makes a deliciously creamy, sweet treat to compliment the cake.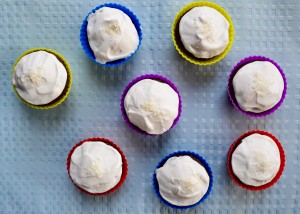 Oh, and the cake? Chocolate and banana are a match made in heaven. The banana makes the cupcakes so moist and soft. And what dessert is complete without chocolate?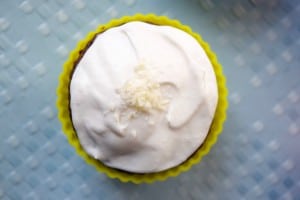 I will gladly chow down on these healthy cupcakes as we ring in 2016!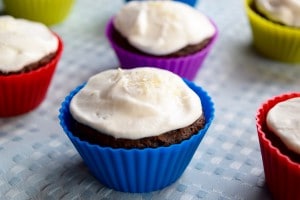 Ingredients:
1 cup whole wheat pastry flour
1/3 cup cocoa powder
1/2 tsp baking powder
3/4 tsp baking soda
1/4 tsp salt
1/2 tsp cinnamon
1/4 cup plus 2 Tbsp almond milk, room temperature
1/2 cup mashed ripe banana (1 banana)
1/3 cup coconut oil, melted
1/2 cup maple syrup
Directions:
Preheat oven to 350 degrees F. Line a cupcake pan with liners.
In a large mixing bowl, mix together the flour, cocoa powder, baking powder, baking soda, salt and cinnamon.
In a separate bowl, mash the banana well. Mix in the almond milk, maple syrup, and melted coconut oil. Be sure that all wet ingredients are room temperature to prevent the oil from solidifying.
Pour the wet mixture into the dry and stir to combine, do not over mix. Pour into the cupcake molds and bake for about 20 minutes, or until a toothpick comes out clean. Let cool completely on a cooling rack. Frost with coconut cream frosting (recipe below).
Coconut Frosting:
Ingredients:
1 can coconut cream
1 tsp vanilla extract
1/4 cup maple syrup
Directions:
Chill the coconut cream as well as the mixing bowl you will mix it in. Using an electric mixer, whip the cream for a few seconds. Pour in the vanilla and maple syrup and continue to whip until smooth and fluffy.
Chill for at least an hour to firm up. Frost desserts with it or use it to dip fruit.