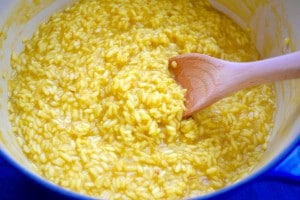 There is a heavenly dish called Risotto Milanese. It's simple and delicious, but not very vegan. It is traditionally made with beef marrow and beef stock as well as parmesan cheese. This is why I cannot call this dish Risotto Milanese, because it is so different.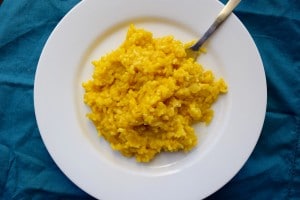 Without the addition of beef and cheese products, the saffron is given more space to shine. It's delicate flavor is unique and truly special. You can add vegetables to this dish, but it is best served simple and on it's own in order to keep that saffron at center stage. Believe me, this dish is absolutely perfect as is.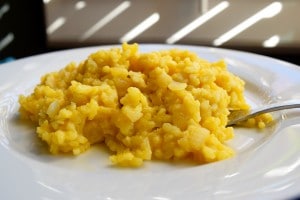 Risotto is typically a Primo Piatto, meaning it's a first course dish served before the main entree. But with a roasted vegetable as a side, this meal is filling and complete, proving once again that simple is often best.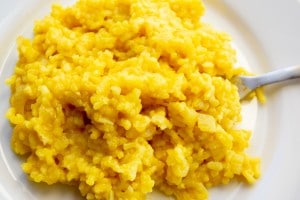 Saffron Risotto
Ingredients:
1 cup arborio rice
1 cup dry white wine
6 cups vegetable broth
1/2 onion, finely diced
2 cloves garlic, minced
1/4 tsp saffron
1/4 cup nutritional yeast
4 Tbsp vegan butter
salt and pepper
Directions:
In a saucepan, heat the vegetable broth until hot, but not boiling. Add the saffron to let it infuse into the broth. Keep the heat low, but do no boil.
In a large pot, heat the vegan butter over medium heat. Cook the onion and garlic until the onions are translucent and the garlic fragrant. Do not over cook. Add salt and pepper to taste.
Add the rice and stir to coat with the butter. Pour in the wine and stir frequently until it has been completely absorbed.
Add the broth to the rice only one or two ladles at a time. Pour in a ladle and stir very frequently until it has been completely absorbed. Add in another ladle or two until the liquid is finished.
Stir in the nutritional yeast and turn off the heat. Serve immediately.