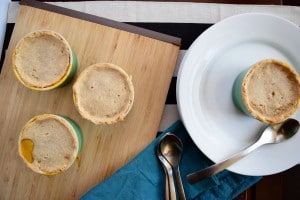 Growing up with an Italian vegetarian mother, there were certain dishes that were just never made. Meatloaf, tuna casserole, green bean casserole, chicken pot pie, and many other classic American dishes were not on the menu. My husband, on the other hand, grew up with these dishes and many more.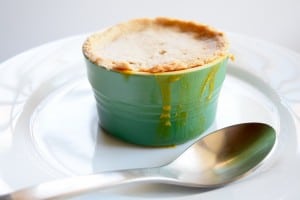 He now prefers to eat the plant based food that I make, agreeing that everything tastes better and he just feels healthier. Coming from a former meat-and-potato-Southern-boy, this is pleasantly surprising as I never would have thought that he would become someone who favors kale over steak.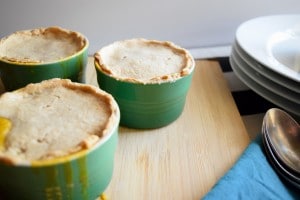 I couldn't help but be curious about making certain dishes that he grew up with. I wondered if I could make them vegan and still please our palates.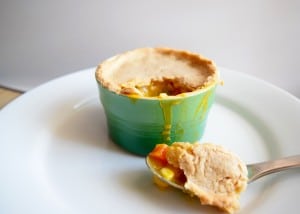 And so the chickpea pot pie was created. And it was delicious. Paired with some vegan mashed potatoes made by the hubby, this meal was devoured at meal time.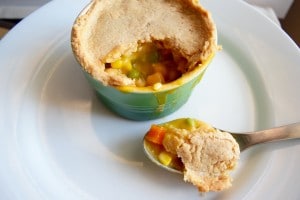 Now that I've got the vegan versions of meatloaf and pot pie accomplished, I'm thinking about what other nostalgic dishes I can take on. But for now, I may just make a few more batches of these mouth-watering pot pies.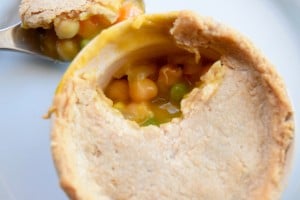 Chickpea Pot Pies
Ingredients:
2 Tbsp olive oil
1/2 cup diced onion
3 garlic cloves
4 Tbsp flour
4 Tbsp unsweetened almond milk
1.5 cups frozen mixed vegetables
1 can chickpeas, drained and rinsed
2 cups vegetable broth
1 bay leaf
1 tsp fresh thyme
Salt and pepper
Pie crust dough (recipe below)
Directions:
Preheat oven to 400 degrees F. Heat olive oil in a medium pot and cook onion for about 3 minutes. Add the garlic and salt and pepper and cook for 5 more minutes.
Add the flour and broth, whisking to combine. Stir in the milk, thyme, and bay leaves and cook until thickened.
Pour in the vegetables and the chickpeas and continue to cook for about 5 additional minutes. If you like more crust, press the extra pie crust dough into the ramekins as the bottom crust.
Divide the mixture between 4-5 oven safe ramekins or a pie pan. Cover with the pie crust dough. Bake for about 30 minutes, until the crust is golden.
Easy Whole Wheat Pie Crust
Ingredients:
2 cups whole wheat pastry flour
3/4 cup vegan butter or coconut oil (coconut oil will impart coconut flavor)
5-8 Tbsp cold water
Directions:
Keep all ingredients and bowls very cold. In a blender or mixing bowl, cut the oil/butter into the flour until it resembles bread crumbs.
In a large mixing bowl, mix in a few tablespoons of water at a time until the dough is formed but not sticky.
Refrigerate for about 10 minutes and then roll out the dough on a floured surface.