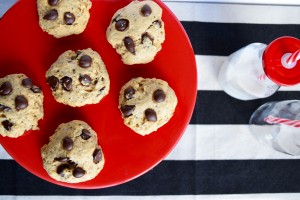 When I was pregnant with Dominik, my number one craving was chocolate chip cookies. It couldn't just be any cookie, no, it had to be chocolate chip.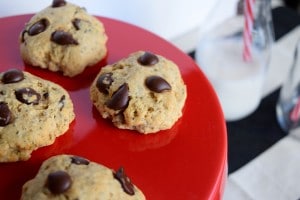 Chocolate chip cookies are pretty amazing and I was quite pleased with this craving. They are the perfect, people-pleasing cookie. Everyone has a particular type of chocolate chip cookie, however. Some like crunchy and crisp, others like soft and chewy. I personally like the soft and chewy variety.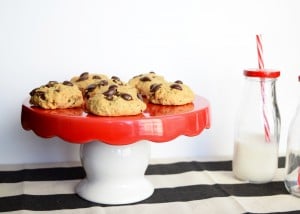 But when baking desserts free of refined sugar, I have found it really hard to get the right consistency. Because I primarily use maple syrup as a sweetener, my cookies usually end up being pretty moist. In cakes, this is preferable and perfect. But cookies are completely different and require some extra love.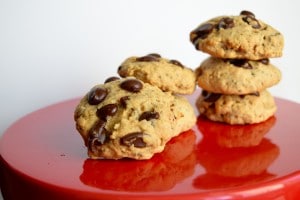 After some experimentation (3 batches of cookies with different ingredients), I finally found the secret to soft, perfect chocolate chip cookies that were also vegan and sugar free.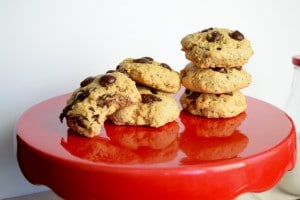 By adding oat flour to the final mixture, it helped to absorb the extra moisture from the maple syrup while keeping the cookies soft.
I like thicker, more cake-like cookies, but flattening these out more will work just as well. By choosing sugar-free stevia sweetened chocolate chips, these cookies are completely free of refined sugar. If you don't like the presence of whole chia seeds in the cookies, choose ground chia seeds instead.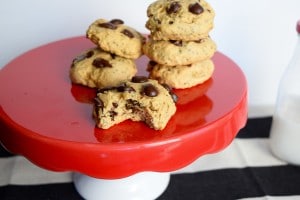 Chocolate Chip Cookies
Ingredients:
2 cups whole wheat pastry flour
1.5 tsp baking powder
1.5 tsp arrowroot powder
1/4 tsp salt
1/4 cup coconut oil, melted
2 tsp vanilla extract
2 Tbsp chia seeds plus 6 Tbsp water
3/4 cup maple syrup
1-2 Tbsp oat flour
1/4 cup-1/2 cup chocolate chips (for sugar free cookies, choose stevia sweetened chocolate chips from your local health food store)
Directions:
Preheat oven to 350 degrees F. Cover two baking sheets with silicone mats or well-greased parchment paper.
A large bowl, mix together the flour, baking powder, arrowroot powder and salt. Set aside.
In another bowl, mix together the coconut oil, vanilla, chia egg, and maple syrup. Make sure all ingredients are room temperature to prevent the oil from solidifying.
Pour the wet mixture into the dry mixture and stir well to combine. Add 1 tablespoon of the oat flour and stir. If the dough is still very wet, add 1 more tablespoon. Fold in the chocolate chips.
Chill the dough for about 10 minutes and scoop the dough into round balls on the baking sheets. Flatten the cookies slightly. The flatter the cookie, the more crisp. Bake for about 12 minutes, or until golden. Let cool on a cooling rack and enjoy!