We finally have rain that has lasted longer than a day here in Southern California. With the drought, this was needed and it has been lovely. Dominik and I have been enjoying snuggling up together and listening the rain fall outside.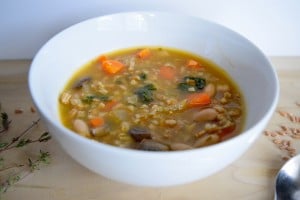 A rainy day calls for a nourishing and warm soup. The combination of farro and beans makes this a great source of protein. With the addition of highly nutritious vegetables like onions, kale, carrots, and mushrooms, this is one powerful soup. And the best part is that it's seriously delicious. I'm not much of a soup person, but I could eat this again and again.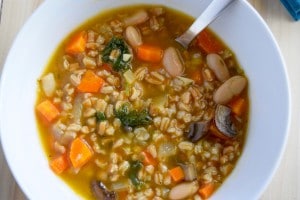 Vegetable Farro Soup
Ingredients:
1/2 onion, diced
3 cloves garlic, minced
1/2 cup carrots, finely chopped
3 sprigs thyme
1 bay leaf
2 cups mushrooms, chopped
4 cups broth
2 cups water
1 cup farro
1 can cannellini beans
3 Tbsp olive oil
salt and pepper
Directions:
In a large pot, heat the olive oil over medium heat. Add the onions and carrots and cook about 3 minutes. Add the garlic and cook 2 more minutes. Stir in the mushrooms.
Add the thyme, bay leaf, farro, broth, and water and bring to a boil. Turn down the heat and simmer for 20 minutes, or until farro is soft.
Add the cannellini beans and salt and pepper and cook for an additional 2 to 3 minutes. Serve hot with crusty bread or crackers.