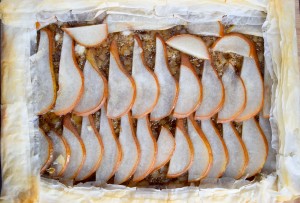 I am a foodie at heart. I long for interesting flavor combinations, new techniques, and delicious food. Luckily, my husband is the same way and we spent our honeymoon eating our way around Hawaii.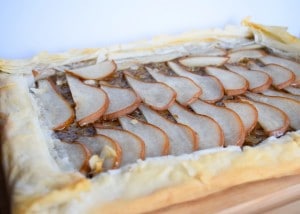 With a toddler, I don't always have the time or the energy to think of new recipes. But over the holidays, my mother and my sister were around to help me out. I took advantage of this to create some recipes that were a bit out of the box for me.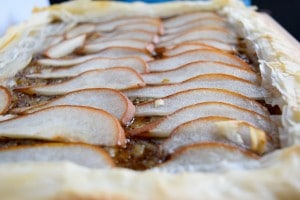 I love fruit tarts and have been wanting to make one. My sister makes amazing desserts and is famous for her treats like apple pie, cakes, and cookies. So I enlisted her help on this sugar free dessert.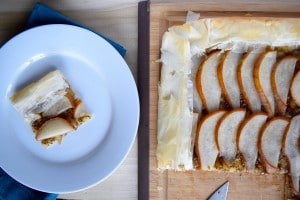 Starting with a few pears, I decided to combine flavors that worked perfectly together, but that are not usually found in a tart. Pears, white wine, and cardamom are seriously amazing together, so we made that the base of the tart. With some maple syrup and chia seeds it transformed into a lovely, sweet jam.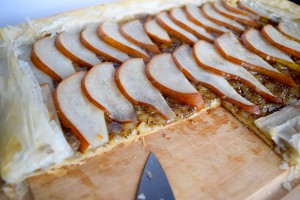 We were thrilled with the results. This tart is pretty simple to make and the flavors are out of this world! I would have liked to add more pears on top, but I only had a few on hand. Feel free to add more. I strongly suggest sticking to vegan butter for this recipe because coconut oil will change the flavor too much.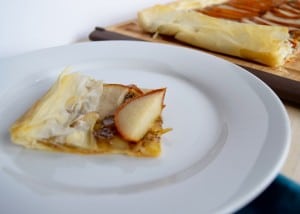 Cardamom is a pretty strong spice, so my house smelled heavenly for a few days. This would make a show-stopping dessert to bring to gatherings and parties, but it's so delicious, you may not want to share it.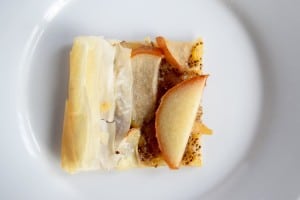 Pear Tart with White Wine Cardamom Jam
Ingredients:
2 pears
1/2 cup maple syrup, for reduction
1/2 cup white wine
2 Tbsp chia seeds
1/4 tsp cardamom powder
8 sheets phyllo dough
1/2 cup vegan butter
1/4 cup maple syrup, for wash
Directions:
Preheat oven to 400 degrees F. Peel one of the pears and finely dice. In a small saucepan, add the chopped pear, maple syrup, white wine, chia seeds, and cardamom. Cook over medium-low heat for about 30 minutes, until the mixture is thick and has reduced.
Line a baking sheet with parchment paper or a silicone mat. Mix together the melted butter and remainder of the maple syrup. Brush each sheet of phyllo with the mixture and lay on top of each other on the baking sheet.
Spread the white wine jam evenly on the phyllo, leaving about an inch border. Slice the remaining pear into thin slices and arrange on the jam. Fold the sides of the phyllo over to create an inch frame.
Reduce the oven to 375. Bake for about 18 minutes, or until phyllo is golden. Let cool before slicing and serving.