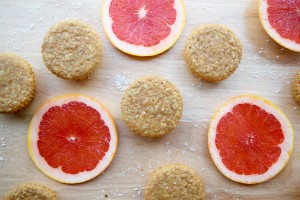 My husband loves grapefruit. He will peel it like an orange and eat it whole, just like that.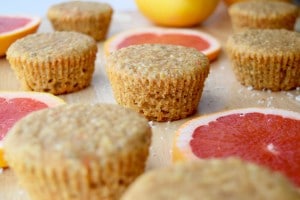 I, on the other hand, cannot stand grapefruit. It's too bitter for me although I love all other citrus fruits. But a family friend recently gave us more grapefruit than we can eat, so I have been trying to find a recipe that we can both enjoy.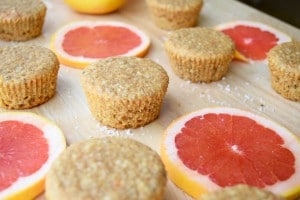 Using them in a muffin, with an extra boost of sweetness from the coconut proved to be the perfect choice. They are packed with that citrus freshness and super light and fluffy thanks to the spelt flour.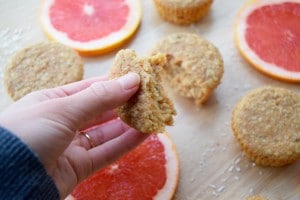 My husband, who is usually pretty quiet about his opinions on food, has been raving about these muffins. He even said they were the best thing I've ever made.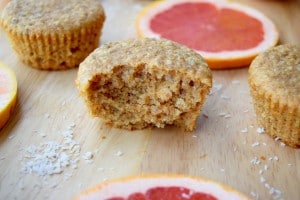 It has been raining all week and these muffins have really brightened things up. A sunny recipe for a rainy day!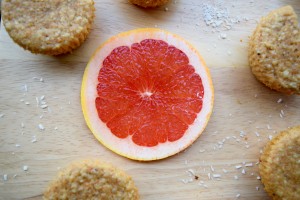 Coconut Grapefruit Muffins
Ingredients:
1 and 1/2 cups spelt flour
2 tsp baking powder
1/2 tsp salt
1/2 cup coconut oil, melted
3/4 cup maple syrup
2 chia eggs (2 Tbsp chia seeds soaked in 6 Tbsp water)
1 tsp vanilla
1/2 cup grapefruit juice
2 Tbsp grapefruit pulp
1 Tbsp grapefruit zest
1/4 cup unsweetened shredded coconut
Directions:
Preheat oven to 350 degrees F and line a muffin pan with liners.
Mix the flour, baking powder, and salt and a large bowl.
In a separate bowl, mix the coconut oil, maple syrup, chia eggs, and vanilla. Pour in the grapefruit juice, pulp, and zest.
Pour the wet mixture into the dry. Fold in the shredded coconut. Scoop into the muffin molds and bake for about 20 minutes, or until cooked through. Let cool on a cooling rack for about 10 minutes before serving.