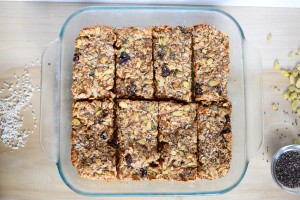 We just got home from a day trip to the mountains. Living on the coast Southern California, we don't get a whole lot of winter weather, and never snow. But, luckily, a drive to the mountains is an easy one and not too long. My husband and I have been waiting for a good rain storm because that meant that the mountains to the east of us would most likely get snow.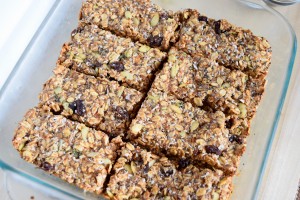 It was Dominik's first time in the snow and our first vacation as a family, even if it was a really short one. And it was everything I could have hoped for and more. Dominik had a blast exploring the snow and wilderness, and I was in my happy place surrounded by trees and nature.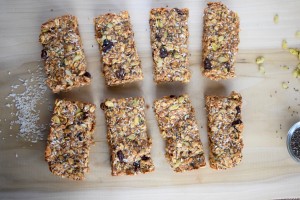 But like any trip with children, it required some planning and a car full of supplies for many different scenarios. At the top of the list for this hungry toddler was snacks. We needed snacks that were easy to eat in the car, healthy, and delicious. The solutions was a granola bar! But I have a hard time finding granola bars that fit our requirements. Most granola bars are packed with sugar or too hard or too messy or just not that healthy. So I played around a bit with my own recipe.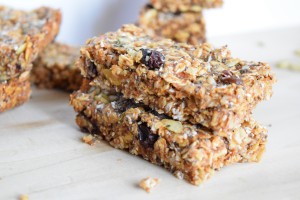 And this is it. The perfect granola bar. It's soft, but holds together really well. It's delicious and packed with healthy ingredients like chia seeds, pumpkin seeds, almond butter, oats, raisins, and coconut. They were just perfect for a road trip!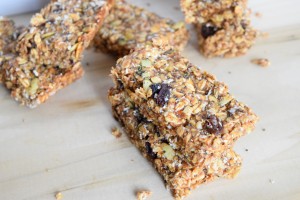 Perfect Granola Bars
Ingredients:
2 cups oats (gluten-free or regular)
10 dates
3/4 cup almond butter
1/4 cup raisins
1/4 cup pumpkin seeds
2 Tbsp chia seeds
1/4 cup unsweetened shredded coconut
2 Tbsp coconut oil
Directions:
Preheat the oven to 375 degrees F. Soak the dates in hot water for about 10 minutes. Take out the pits and any rough skin.
In a food processor or blender, blend the dates and the almond butter until smooth.
In a large bowl, mix together all of the ingredients. It will form a large, thick ball of dough.
Press the mixture into a very greased 8 x 8 inch pan. Bake for about 15 minutes.
Let cool completely and transfer to the fridge to chill for at least an hour. Store in the fridge.