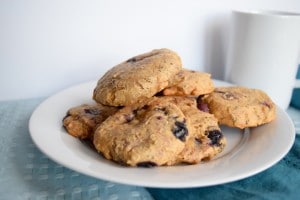 I have another awesome cookie recipe for you! Inspired by my chocolate chip cookies, I wanted to make more cookies and experiment more with flavors and cookie textures. These cookies are softer and sweeter, making them a truly decadent dessert.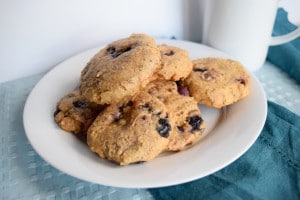 After we stopped eating refined sugar, we fell into a bit of a dessert rut. We still craved sweet treats every now and then. We tried having extra fruit, but it missed the extra special qualities of baked goods.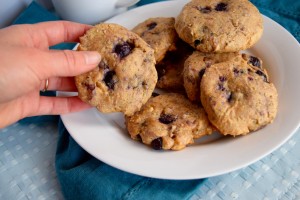 And then I discovered the magic of baking with natural sweeteners like maple syrup, dates, and applesauce. The extra moisture keeps all of my desserts the perfect consistency and I think everything has a more pleasant sweetness to it now. But it took some time and experimentation to get it right. Baking with liquid or fruit sweeteners calls for different measurements and ratios. For example, when using maple syrup instead of sugar, either a liquid ingredient needs to go down, or I need to increase a dry ingredient. But increasing a dry ingredient could potentially mess with the way something rises, so it really is a science.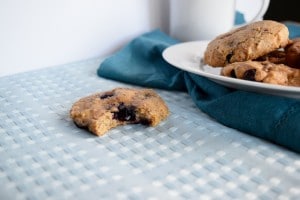 Do we still eat refined sugar? Sure, rarely, but we definitely indulge in a sugary treat on special occasions. But every time we do, we feel physically terrible afterwards and we wonder why we ate it.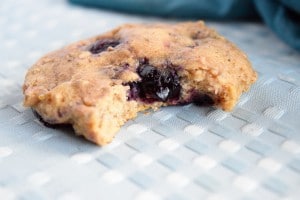 And then we go back to only eating desserts made with whole ingredients that, in our opinions, taste better anyways.
Blueberry Cookies
Ingredients:
2 cups whole wheat pastry flour
1.5 tsp baking powder
1.5 tsp arrowroot powder
1/4 tsp salt
2 chia eggs (2 Tbsp chia seeds plus 6 Tbsp water)
3 Tbsp coconut oil
3/4 cup maple syrup
1 tsp vanilla extract
1/4 cup frozen blueberries
Directions:
Preheat the oven to 350 degrees F. Grease a silicone mat or use parchment paper on a baking sheet.
In a large bowl, mix together the flour, baking powder, arrowroot powder, and salt. In a separate bowl, mix the chia eggs, coconut oil, maple syrup, and vanilla extract. Make sure that all wet ingredients are room temperature to keep the oil from solidifying.
Pour the wet ingredients into the dry and stir to combine. Gently fold in the blueberries.
Scoop the dough about 2 to 3 tablespoons at a time onto the cookie sheet. Press down to form about 3/4 inch disk.
Bake for about 12 minutes, or until golden. These will still be very soft. Let cool completely before serving.