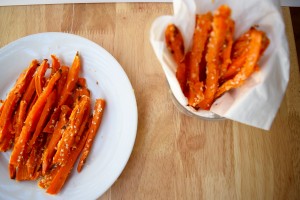 I know that sweet potato fries are a bit trendy, but they are so good. The nice thing about sweet potato fries is that even if they turn out floppy and soggy, they are still pretty tasty. However, a crispy on the outside and soft on the inside fry is heavenly.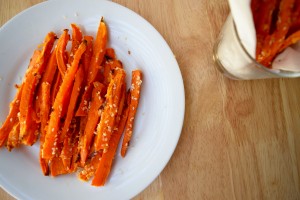 It's taken me a really long time to perfect the sweet potato fry. In the past, I've always ended up with floppy fries. My spices of choice were usually cinnamon and a dash of cayenne, which go great with the sweet potato flavor. But I think I found the way to eat sweet potato fries.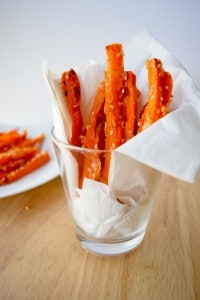 First, the key to sweet potato fries that are actually crispy is to soap them in cold water before cooking. The rest of the steps, such as coating the fries in a starch, are pretty similar to a regular potato fry. It's all about balancing starches, which is where the cold water comes in.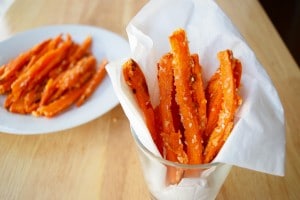 As for the flavor, sesame and ginger make these sweet potato fries truly special. These flavors are absolutely perfect together and before I realized it, I had devoured my husband's portion of fries as well as my own. Seriously, I don't think I'll ever use anything else on a sweet potato.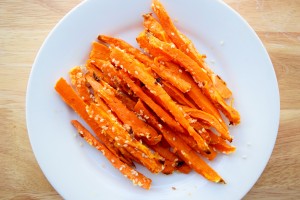 Sesame Ginger Sweet Potato Fries
Ingredients:
2 medium sweet potato fries
3 Tbsp arrowroot powder
1 Tbsp ground ginger
2 tsp salt
1/4 breadcrumbs (gluten free or wheat)
2 Tbsp sesame seeds
4 Tbsp coconut oil
Directions:
Peel and cut the sweet potatoes into sticks. Let soak in cold water for 1 hour.
Preheat the oven to 450 degrees F. Drain and rinse the sweet potatoes and coat with the arrowroot powder. In a large bowl, mix the fries with ginger, salt, breadcrumbs, sesame seeds, and oil.
Cover a baking sheet with a silicone mat and grease well. Arrange the fries in a single layer and avoid over crowding. More than one baking sheet or batch may be necessary.
Bake for 15 minutes and the flip the fries and bake for 15 minutes more. Let cool and enjoy!