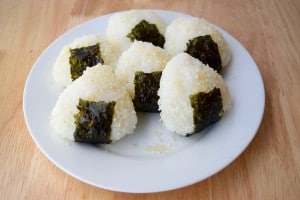 When my husband and I were married, we really wanted to go to Japan for our honeymoon. We have always loved watching anime together and enjoyed Japanese food, so we dreamed of a lovely Japanese honeymoon. But, it was too expensive for us at the time, so we will just have to keep saving and dreaming.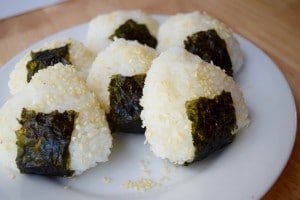 We do try to bring a little of Japan into our lives. And that includes our favorite snack: onigiri. It's healthy, easy to eat, and delicious. It's also really simple to make, so I like to keep a whole bunch in the fridge for easy snacking.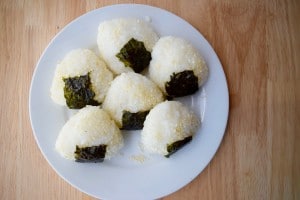 Onigiri are basically rice balls with a filling. We prefer cucumber or avocado as fillings, but the choices are pretty endless. Any vegetable will be great, even vegan cream cheese would be a nice choice. The outside seaweed isn't necessary, but it really makes onigiri special. I just buy the seaweed snack packs and use those because they are thinner and easier for Dominik to eat. They also make flavors like wasabi.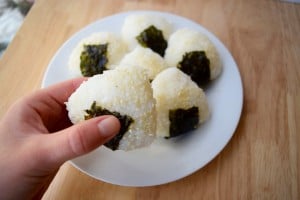 One day, we will make it to Japan. Until then, we will enjoy having a little bit of Japanese culture through their fantastic cuisine and delicious snacks.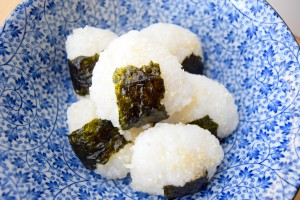 Onigiri
Ingredients:
1 cup sushi rice (or short grain white rice)
1.5 cups water, plus 1 cup
1/2 tsp salt
1 Tbsp sesame seeds
nori seaweed, cut into strips
Filling of choice (cucumber, avocado, picked plums or vegetables, etc.)
Directions:
Rinse the rice very well, until the water runs clear.
Put the rice and 1.5 cups water in a covered saucepan and bring to a boil. Turn down to simmer, do not stir or remove lid. Cook until water has absorbed, about 20 minutes.
Let rice cool completely. Mix salt and 1 cup water in a bowl. The salt water is to keep the rice from sticking to your hands, periodically dip your hands in the water while making onigiri.
Take a handful of rice and form a bowl. Put the filling of your choice in the center and form a ball around it. Press firmly until it is in your desired shape. Add sesame seeds and seaweed to the outside and enjoy!