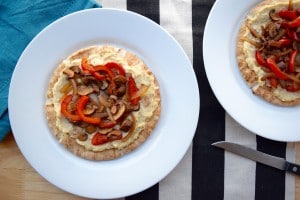 I love pizza. Who doesn't? It's comforting, easy to eat, and delicious. And homemade pizza is the absolute best. When I went vegan, I didn't worry about finding ice cream or what to put in my cereal, I worried about not eating pizza.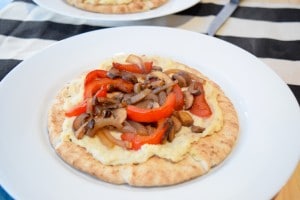 But a pizza doesn't need cheese, dairy, or meat to be delicious. In fact, I think a pizza is so much better with just plant based ingredients. I can taste the sauce better, the vegetables are more enjoyable, and I don't feel like garbage after eating it. So I guess the answer to the great pizza questions is yes, there is such as thing as too much cheese.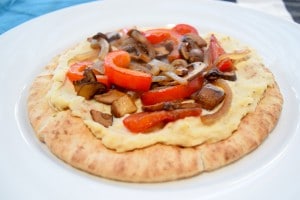 I have been craving pizza lately but have been too lazy to make my own crust. The store bought ones just don't compare, plus they are usually packed with sugar and artificial ingredients. And the solution to this issue was so simple that I wondered why I hadn't tried it sooner: pita bread!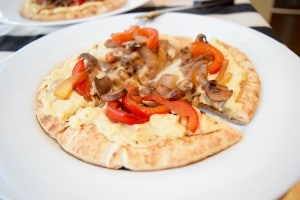 A good pita bread makes the perfect crust. The flavors are pretty close and the oven helps it to toast up. Plus, the topping? Oh my goodness. The combination of creamy cannellini beans and tangy balsamic mushrooms is absolute heaven.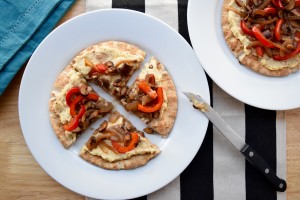 Balsamic Mushroom Pita Pizzas with Cannellini Spread
Ingredients:
about 2 cups sliced cremini mushrooms
1 red bell pepper, chopped
half of a large onion, chopped
2 Tbsp balsamic vinegar
2 Tbsp olive oil
6 pitas
Cannellini spread* recipe below
Directions:
Preheat oven to 400 degrees F. In a small saucepan, heat olive oil over medium heat.
Add the onions and bell pepper and cook until onions are translucent. Add the mushrooms.
Pour in the balsamic vinegar and continue to cook until the vegetables are soft and the vinegar has reduced.
Spread the bean mixture onto each of the pita rounds. Top with the balsamic mushrooms and other vegetables. Bake for about 10 minutes.
Cannellini Bean Spread:
Ingredients:
1 15 ounce can of cannellini beans, rinsed and drained
2 cloves garlic
1 tsp Italian seasoning
1/4 cup olive oil
salt and pepper to taste
Directions:
Blend all ingredients until smooth. Add a tablespoon of water at a time if the mixture is too dry while blending.