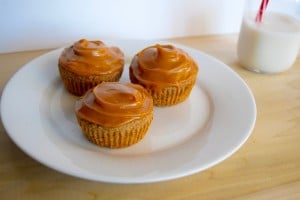 We are still in a pretty rough patch when it comes to sleep. The toddler has been fighting sleep for hours at bedtime and waking up frequently. On the bright side, he seems to be pretty happy when he is awake, but it's hard to be cheery as a parent when it's 3 am.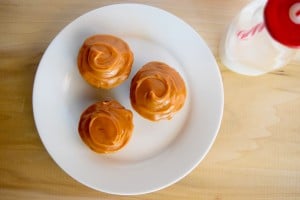 Luckily, it's the weekend so my husband is around to help me during the day. What is helping the most, though? These out of this world cupcakes that I made.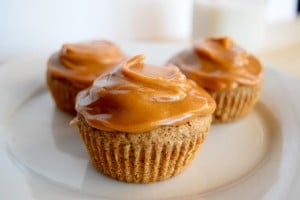 I've been trying to branch out a bit from my chocolate desserts. We eat a lot of peanut butter around here, so I have been thinking about how wonderful it would be as a creamy frosting. The almond milk smooths it up and the maple syrup makes it delightfully sweet.  It was hard not to eat all of the frosting right out of the bowl.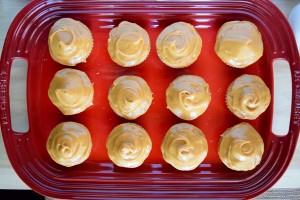 As for the cupcake, my first thought was to make a chocolate cupcakes. And this frosting would be fantastic with my chocolate banana cupcakes. But, wanting to try something new, I decided on the flavors of maple and cinnamon to pair with the peanut butter.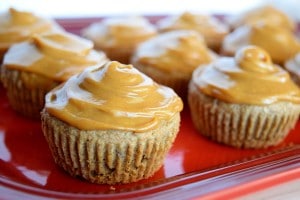 I don't think I'll ever want to pair peanut butter with anything else! Maple cinnamon cupcakes plus peanut butter frosting makes for some of the best cupcakes I've ever had. The spelt flour keeps these cupcakes healthy without adding any density. These are light, sweet, and moist.
This frosting is super creamy and sweet, but still packed with the flavor of peanut butter. I bet it would taste awesome as a dip for apples dusted with cinnamon.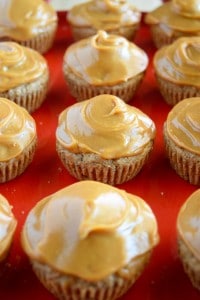 To help boost my energy as well as my mood, I've been snacking on these for breakfast every morning. It makes the sleep deprivation plus the early wake ups so much easier. I think I have a new favorite cupcake, just don't tell chocolate.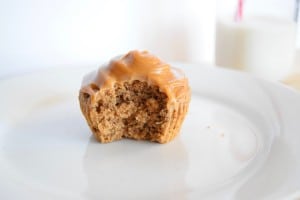 Maple Cinnamon Cupcakes
Ingredients:
1.5 cups spelt flour
1.5 tsp baking powder
1/2 tsp baking soda
1/4 tsp salt
2 tsp cinnamon
1/2 cup almond milk
1/2 tsp apple cider vinegar
1 chia egg (1 Tbsp chia seeds plus 4 Tbsp water)
1/2 cup maple syrup
1/3 cup coconut oil
2 tsp vanilla extract
1 batch of peanut butter frosting* recipe below
Directions:
Preheat oven to 350 degrees F. In a large bowl, mix the flour, baking powder, baking soda, salt, and cinnamon.
In a medium bowl, mix the almond milk and apple cider vinegar and let curdle for a few minutes. Add the maple syrup, chia egg, coconut oil, and vanilla extract. Make sure all wet ingredients are room temperature to prevent oil from solidifying.
Pour the wet ingredients into the dry and mix until combined. Scoop the batter in the cupcake pan. Bake for about 20 minutes, or until cooked all the way through.
Peanut Butter Frosting
Ingredients:
1 cup creamy peanut butter
1/2 cup almond milk
1/2 cup maple syrup
Directions:
Pour all the ingredients into a bowl and use an electric mixer to mix until light, fluffy, and creamy. Use immediately. Chill if it is too runny.