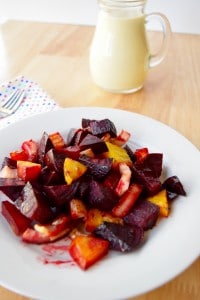 For the most part, Dominik will eat anything. But there are some days that he won't eat the zucchini or will spit out the cauliflower. These are definitely foods that I know he will eat most of the time, but sometimes he is just picky like any other kid. But there is one vegetable that he will always eat: the beet.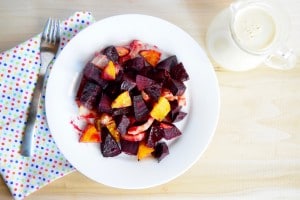 Beet season has been very appreciated around here and it makes an appearance on our plates quite frequently. But an ingredient that goes perfectly with them, I don't use very often: fennel. It is such an unappreciated ingredient that has a lovely sweet flavor. It really can take a dish to the next level.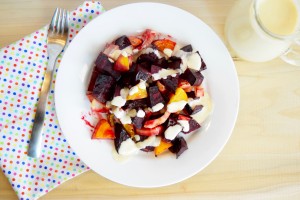 I think maybe it's idea that it has a flavor that is similar to licorice. Being someone that hates black licorice, I totally understand why many probably steer clear of anything remotely like it. But fennel's flavor is delicate, sweet, and acts as a flavor enhancer, like the onion.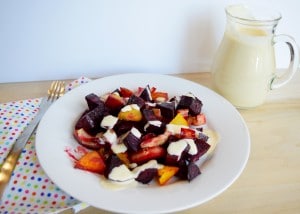 When the beets and the fennel are roasted, the flavor gets even richer and sweeter. And when it's covered in my creamy orange dressing, everything works perfectly together and the dish tastes and feels complete. This dressing recipe makes quite a bit because you will want to dip all your vegetables in it, it's that good.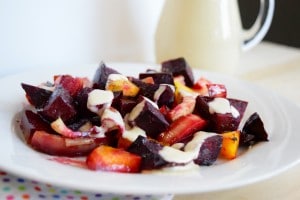 Roasted Beets and Fennel
Ingredients:
about 6 beets, any colors
1 fennel bulb
2 Tbsp olive oil
salt and pepper
Directions:
Preheat the oven to 400 degrees F. Peel and cut the beets into quarters. Slice the fennel.
Toss all ingredients together in a casserole dish and bake for about 45 minutes, stirring every 15 minutes. Serve hot or cold with the creamy orange dressing.
Creamy Orange Dressing:
Ingredients:
1 cup cashew, soaked in water for at least an hour
1/2 cup orange juice
1 tsp orange zest
1/4 cup almond milk
Directions:
Drain and rinse cashews. Blend all ingredients until creamy and smooth.