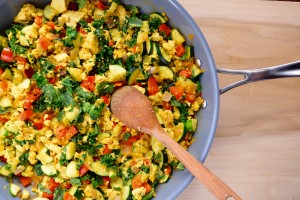 I don't usually gravitate towards savory breakfasts. First thing in the morning, I crave something sweet and comforting to help with the reality of waking up with a toddler. But in an effort to step out of my comfort zone, I wanted to try something different for breakfast.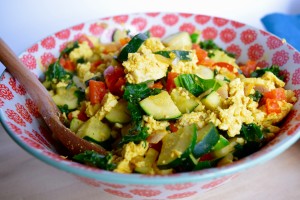 Scrambled tofu is basically the scrambled eggs of a plant based diet. It has a similar texture and because tofu is such a neutral food, it can be dressed up with a variety of spices.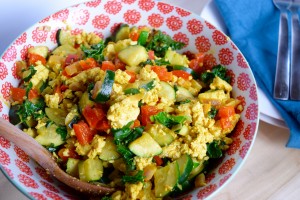 So I combined my favorite spices, added a rainbow of vegetables, and scrambled the tofu. And I was so pleasantly surprised by the breakfast that I created. It's flavorful, filling, and super delicious. I could definitely eat this for breakfast on a regular basis.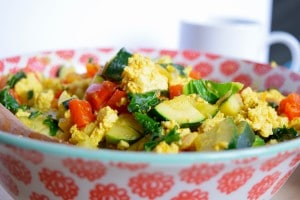 And compared to the sweet breakfasts that I usually eat, even if they are made with natural sweeteners, this is much healthier. That rainbow of spices and vegetables plus the high protein tofu provides a ton of nutrition. What a great way to start the day!
Running after a toddler first thing in the morning, I could definitely use all the boost I can get. Dominik loves it too, so I am happy to get more vegetables in him. I can make it even easier by chopping the vegetables the night before and just throwing it all in the pan first thing in the morning. Easy and nutritious breakfast!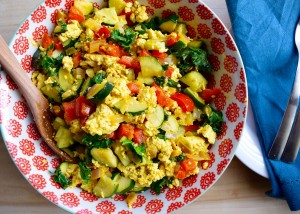 Ingredients:
3 Tbsp olive oil
1/2 cup onion, finely diced
1 bell pepper, diced
3 cloves garlic, minced
2 medium zucchini, diced
1 block firm tofu
1/4 tsp turmeric
1/2 tsp paprika
1/2 tsp garlic powder
1/2 tsp curry powder
1/2 tsp Italian seasoning
1 tsp salt
1/4 cup kale, chopped
Directions:
Heat the olive oil in a skillet or fry pan over medium heat. Cook the onion and bell pepper until the onions are soft and translucent.
Add the garlic and zucchini and cook for about 5 minutes. Mix the turmeric, paprika, garlic powder, curry powder, salt, and Italian seasoning in a small bowl. Sprinkle over the cooking vegetables and mix well.
Press the tofu between paper towels until all the excess water has been squeezed out. Using your hands, crumble the tofu into the pan and mix well.
Continue to cook for about 5 minutes. Stir in the kale until wilted. Serve immediately.