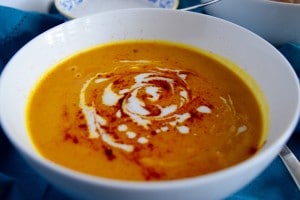 Now that Dominik is quickly approaching his second birthday, his personality is coming out more and more. He acts out little scenarios with his wooden animals or he does things just to make us laugh. He will drop what he's doing if he hears music so that he can dance. And sometimes, if he catches me looking at him, he will smile the biggest, cheesiest grin.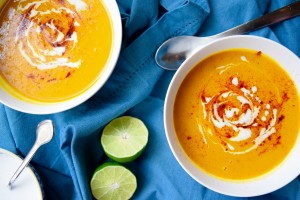 Dominik has also started helping me more in the kitchen. This has really helped with my recipe production because it keeps him occupied and let's me get stuff done. He pours, mixes, fetches ingredients, and pushes the buttons on the timer. Helping in the kitchen also means that he is getting his first lessons in math, science, and cooking.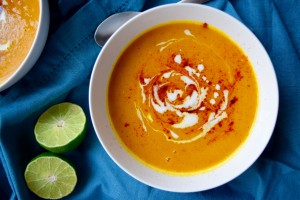 This is one of the recipes that we made together. I wanted to make a creamy soup, but didn't want to hassle with blending super hot liquids, so I came up with a solution. I blended the cooked squash and vegetables with the cold broth straight out of the container. The process was so much easier and everything came out perfect. No more trying to blend boiling hot soup. Of course, if you have an immersion blender, that's even easier! This soup is super nutritious and packed with flavor, a great way to use those kabocha squashes!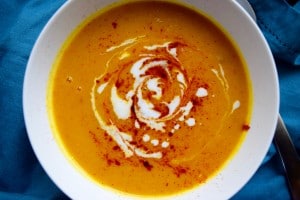 Creamy Kabocha Squash Soup
Ingredients:
1 medium kabocha squash
2 Tbsp coconut oil
1 medium onion, diced
3 cloves garlic, minced
1 inch piece of ginger, minced
2 tsp curry powder
1 tsp paprika
1/2 tsp garlic powder
4 cups vegetable broth
1/2 cup coconut milk, plus more for garnishing
Directions:
Preheat the oven to 425 degrees F. Cut the kabocha squash in half and scoop out the seeds. Brush with 1 tablespoon coconut oil and place cut side down on a baking sheet. Bake for about 35 to 45 minutes or until the squash is soft and cooked through. Sit aside to cool.
In a large pot, cook the onion in the remaining coconut oil until soft and translucent. Add the garlic and ginger and continue to cook for about 2 minutes. Add the spices and cook 2 minutes more. Turn off heat.
In a high speed blender, add the flesh of the squash, the onion mixture and about 2 cups broth. Blend until smooth. *If using an immersion blender, add all ingredients to the pot and blend.
Pour the mixture into the pan and add the rest of the broth. Bring to a boil and simmer for about 10 minutes. Turn off heat and stir in the coconut milk.
Garnish with coconut milk and paprika and serve immediately.