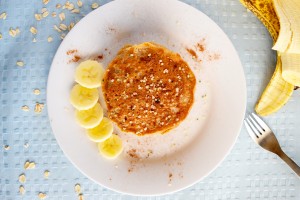 Until I became a stay at home mom, I only had time to make breakfast on weekends. Straight out of high school, I dove into full time college and an everyday part time job. I would get up early to attend a few classes, grab a quick lunch, head to work, and then head to an evening class. And with traffic, it often took an hour to get to school. During those days, breakfast needed to be either super fast or portable so that I could eat it once I got to school. That meant a lot of bagels and granola bars. And when I added an internship on top of all that, breakfast sometimes didn't happen.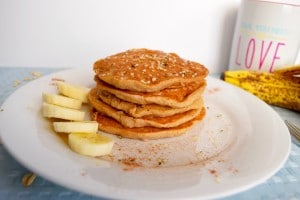 Once I was out of school and working full time, my breakfasts improved but they still needed to be quick and easy. Granola and oatmeal, especially overnight oats, became my breakfast of choice.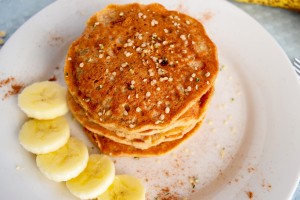 As much as I love a good oatmeal or granola, my favorite breakfast? Pancakes. But I used to have to wait until the weekend to make them. And now that I'm home every morning, I make pancakes all the time.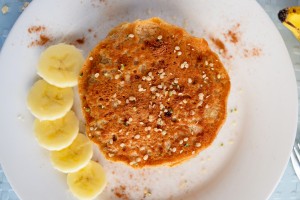 I usually make my spelt pancakes with a variety of add ins like blueberries or chocolate chips. But I've been wanting to try a banana pancake for awhile. Adding banana to a pancake adds a lovely moistness and makes them sweet. But there's a fine line between mushy and moist. Luckily, I cracked the banana pancake code.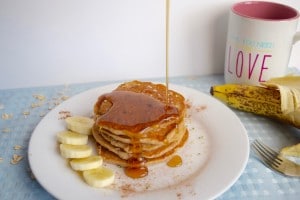 The secret to perfect banana pancakes is oat flour. The ground oats help to soak up the extra moisture from the banana so that the pancakes hold together well, are fluffy, and still have that nice moist banana texture.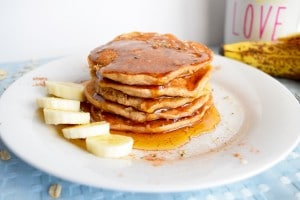 I do love my spelt pancakes, but these are so amazing. I may have to buy a bunch of bananas each week that are reserved for these pancakes because I could eat this every day. If you don't have oat flour around, it's as easy as grinding up oats in a blender or food processor.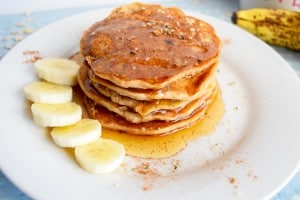 Banana Pancakes
Ingredients:
1 cup oat flour (for gluten free option, make sure oat flour is gluten free)
1 tsp baking powder
1 tsp cinnamon
1/4 tsp salt
1 ripe banana, mashed
1 cup milk
1 tsp vanilla
4 Tbsp coconut oil
Directions:
Mix the oat flour, baking powder, cinnamon, and salt in a large bowl. Set aside.
In a medium bowl, mash the banana well. Whisk in the milk, vanilla, and melted coconut oil.
Pour the wet into the dry and mix only until combined.
Heat the oil in a pan over medium heat. Wait until the oil is heated to add the batter. Scoop the batter about 1/3 cup at a time to create little pancakes. Cook for a few minutes and then flip and cook the other side. Add a little more coconut oil in between batches.
Serve with toppings like maple sytrup, hemp seeds, cinnamon, vegan butter/coconut oil, and sliced banana.