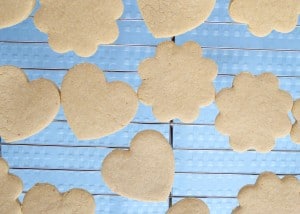 February is around the corner. It's a bit of a crazy month for us because of all the family birthdays, my husband's included. But it also has both Valentine's Day and our dating anniversary. Dating anniversaries are not a huge deal, especially after marriage. But because ours falls so close to Valentine's Day, I like to celebrate them together.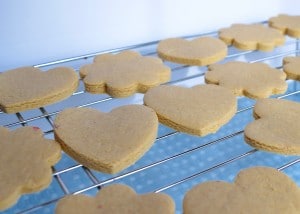 This year will be our 6th anniversary from when we started dating. We had been friends for years before that, having met at age 17 in high school. But that around my husband's birthday (which is also around Valentine's Day), something clicked for us. After years of friendship and seeing both the worst and the best from each other, we realized that we were perfect for each other.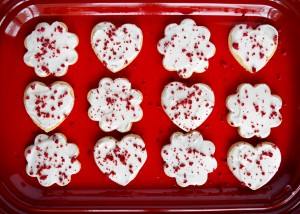 Our wedding anniversary is in July, but February is still so special to us. It signifies the beginning for us. An end to toxic relationships and heartbreak. A relationship that has it's ups and downs, but that most importantly nourished us to become the best we can be.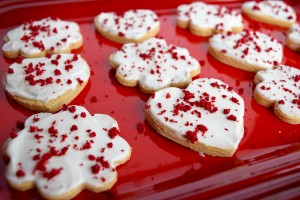 We don't normally do a whole lot for holidays like Valentine's Day, as special as it is to us. Sometimes we will go out to dinner or order take out, but it's all about spending time together. That means putting away the computers and books and snuggling up on the couch to watch a movie. Or just sitting around in our pajamas and chatting. With Dominik around, we have been spending our family time at the park.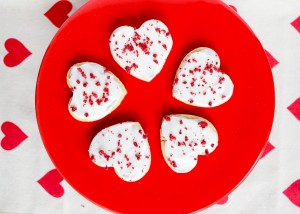 This Valentine's Day, I wanted to make him something special. It needed to be a dessert that was sugar free, delicious, and festive. I've been wanting to use my heart shaped cookie cutter, but cooking with liquid sweeteners can be tricky. Maple syrup can make cookies quite soft, and I was concerned about them spreading too much and loosing their shape. After playing around a bit, I found the perfect cookie that will hold it's shape, stay soft and chewy, and most importantly be delicious.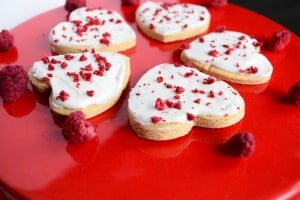 Then there was the decorations. My husband loves my coconut cream frosting, so that was a given. But I love the look of cut out cookies with sprinkles and wanted something similar. So I crushed freeze dried raspberries to make sugar free sprinkles that were completely natural. A pleasant surprise was that they served as the perfect tart/sweet compliment to the rich cookies. Any freeze dried fruit will do, but raspberries are perfect for Valentine's Day.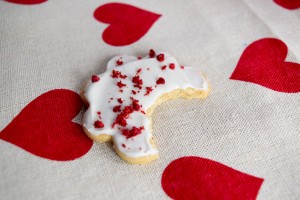 Valentine Cut Out Cookies:
Ingredients:
1 cup oat flour
1 cup whole wheat pastry flour (or almond for gluten free)
1/4 tsp salt
1/4 tsp baking soda
4 Tbsp coconut oil or vegan butter
1/4 cup maple syrup
2 tsp vanilla
Coconut cream frosting* recipe below
Crushed freeze dried raspberries as the sprinkles
Directions:
Preheat the oven to 325 degrees F. Mix the oat flour, wheat flour (or almond), salt, and baking soda in a large bowl.
In a separate bowl, mix the coconut oil, maple syrup, and vanilla. Pour wet mixture into the dry mixture and mix well. Use your hands to knead the dough.
Using two pieces of parchment paper, roll out the dough between the two. The dough should be about 1/4 inch thick.
Using a cookie cutter (or a knife or even a glass) cut out your cookies. Lay them onto a parchment paper or silicone mat covered baking sheet. Bake for about 10 to 12 minutes. Let cool completely on a cooling rack before frosting and decorating.
Coconut Frosting:
Ingredients:
1 can coconut cream
1 tsp vanilla extract
1/4 cup maple syrup
Directions:
Chill the coconut cream as well as the mixing bowl you will mix it in. Using an electric mixer, whip the cream for a few seconds. Pour in the vanilla and maple syrup and continue to whip until smooth and fluffy.
Chill to firm up if it's too soft. Frost desserts with it or use it to dip fruit.