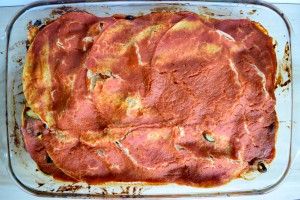 Well, it's official. Dominik now goes down the slide all by himself. And not just any slide, the biggest ones he can find. I knew this day was coming, after all he is pretty fearless when it comes to most things. He will run into the ocean, jump into the pool, and jump towards me off the bed with arms stretched out (which is still horrifying for me). But the slide was always something that he needed me for. He would grip onto my arm the whole way down. Now, watching him as he climbs the stairs and goes down the slide all alone just emphasizes the fact that he is growing up.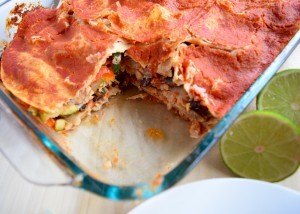 Growing up has it's perks, however. As his language improves and vocabulary increases, he is showing me glimpses of a fun personality. My husband dressed him the other day in jeans and a shirt, which is not a particularly fancy outfit. But because I never put him in jeans (they are just too hard for him to move in), it caught me by surprise. He just looked so much like a little boy.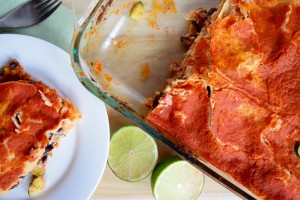 Despite his eagerness to grow up, he is still a toddler. A toddler that needs lots of attention, snuggles, and snacks. This means that it's hard to make a meal that requires attention taken from him. Enchiladas, one of my favorite foods, takes a great deal of time and attention. Many of the other steps, like making the sauce and the filling, are things that I can walk away from if needed. But when it comes to frying the tortillas, then stuffing, then rolling them, it just takes too long and is too hard for me to take a break from if Dominik needs me.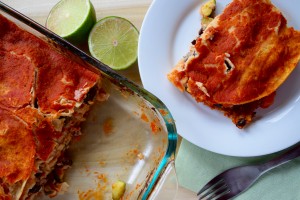 But then there is the Enchilada Casserole. All of the ingredients and big flavors of an enchilada, but made a little bit quicker by baking it like you would a lasagna. I like to make my own enchilada sauce in order to avoid the highly processed or sugar laden pre-made ones, but feel free to use whatever sauce you like.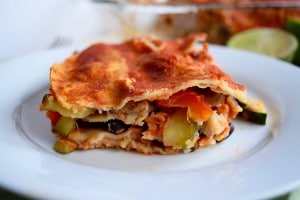 Enchilada Casserole
Ingredients:
12 corn tortillas
1 recipe enchilada sauce or store bought
2 Tbsp olive oil
2 zucchini
1 bell pepper
1 cup mushrooms
1 can black beans
2 cloves garlic
1 cup salsa
Enchilada sauce *recipe below
Directions:
Preheat the oven to 400 degrees F.
Prepare the enchilada sauce if making it. Heat the olive oil over medium heat in a large pan. Cook the zucchini, bell pepper, and mushrooms until the vegetables are soft. Add the garlic and cook for about 5 more minutes. Turn off heat and stir in beans and salsa.
Spread a few tablespoons of the sauce on the bottom of a casserole dish. Dip 4 tortillas in the enchilada sauce and spread them evenly on the bottom of the dish. Spread half the vegetable mixture on top. Spread about 1/4 cup of enchilada sauce on the vegetables.
Repeat the process with 4 more tortillas and the other half of the vegetable mixture. Add the last 4 tortillas and pour the remaining sauce on top.
Bake for about 20-30 minutes, until it is heated through and bubbly. Serve with extra lime and avocado.
Easy Enchilada Sauce:
Ingredients:
1/4 cup flour (whole wheat or gluten free oat)
4 Tbsp olive oil
about 28 ounces crushed tomatoes (either large can or jar)
1 cup vegetable broth
2 Tbsp chili powder
1 tsp cumin
2 tsp garlic powder
juice half lime
1 tsp salt
Directions:
In a saucepan, heat the olive oil over medium heat. Create a roux by stirring in the flour and cooking for about 2 minutes. Add the tomatoes, broth, and spices and stir well.
Simmer for about 15 minutes, stirring every few minutes.
Squeeze in the lime juice and add the salt and turn off heat. It's ready for enchiladas!