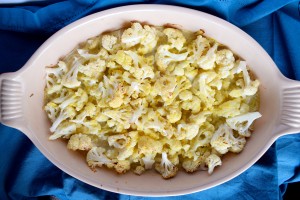 My mom makes awesome au gratin dishes. Potato, cauliflower, zucchini… And what's not to love? Vegetables are cooked to perfection in a creamy, simple bechamel sauce. The beauty of French cooking is that refined simplicity. Also, probably the butter.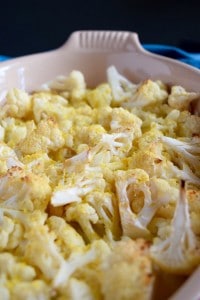 I have been determined to create a vegan version that still had the same delicate, yet rich consistency and flavors as the dairy ones. And, like an au gratin should have, it needed a nice golden "crust". It comes down to, again, simplicity. Unsweetened almond milk replaces the cream, and a bit of nutritional yeast helps the top to taste toasty.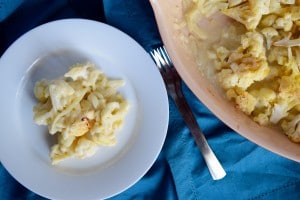 This can be made with any vegetable, but cauliflower is fantastic in the winter. And when it gets soft on the inside with a crispy top, it's perfection.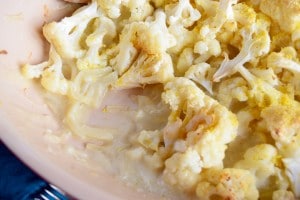 Another important note about this dish is that, although tempting, don't mix it up once in the dish. The onions continue to caramelize and practically melt as the bottom layer, and the very top of the cauliflower should be golden and not soggy.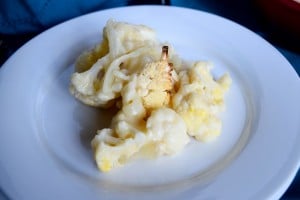 This was a needed comfort food after a particularly long night and grouchy morning. French cooking really is like a warm, safe home. It's centering, comforting, and so delicious it makes troubles disappear from your mind.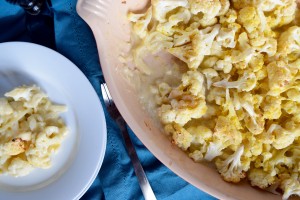 Cauliflower au Gratin
Ingredients:
1 head cauliflower, cut into florets
1 onion, cut in half and thinly sliced
2 Tbsp olive oil
3 Tbsp flour (wheat or rice)
2 cups nondairy milk
pinch nutmeg
salt and pepper to taste
2 Tbsp nutritional yeast
Directions:
Preheat the oven to 350 degrees F. In a double boiler or steamer, steam the cauliflower until they have just softened. Meanwhile, in a saucepan, cook the onions in olive oil until soft and translucent.
Pour the onions into the casserole dish and put the cauliflower on top. In the saucepan, add the remaining olive oil to make a roux. Stir in the flour and cook for 2 minutes. Turn off heat and whisk in the milk until smooth. Add a pinch of nutmeg and the salt.
Pour the sauce over the cauliflower. Bake for about 40 minutes, until the cauliflower is golden. Sprinkle nutritional yeast over the top and serve immediately.