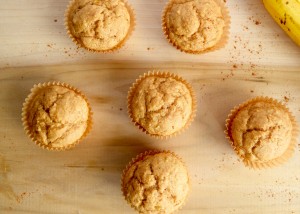 The weekend is finally here. And after quite the sleepless and tantrum filled week. When the spring on the garage door broke early yesterday morning, my husband and I were very ready for the week to be over. It may be a take out and box of wine night.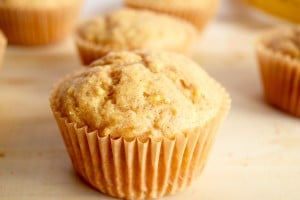 On a brighter note, these muffins are sure to brighten the day. They are bright and golden, both in appearance and flavor. They may be my favorite muffins ever. The sweet tartness of the orange mixed with the creamy sweetness of the banana is a match made in heaven.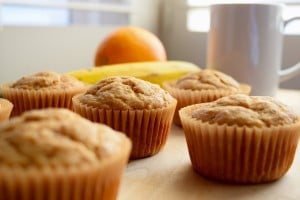 The muffins started out as something else and weren't a recipe that I had been planning. I was planning on making banana pancakes, and had the dry ingredients mixed, for breakfast when I realized that we had no milk. We had orange juice however as well as a whole bunch of seasonal oranges. Suddenly, the idea of a banana orange muffin sounded delicious, so I adjusted a few of the ingredients that I had and popped them in the oven.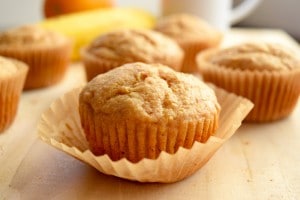 Something magical happened in the oven. I enjoy using whole wheat flour for it's nutritional benefits, but it's a bit "meh" when it comes to certain baked goods. I usually prefer muffins made with spelt flour because they stay moist and light. But something must happen between the orange juice and banana because they were incredible moist and soft and yet held together perfectly.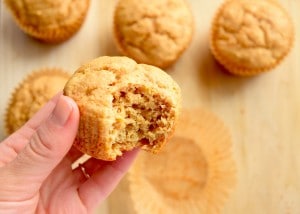 This recipe has me wondering what other baked goods I can make by replacing milk with another liquid. These muffins have certainly brightened a long week!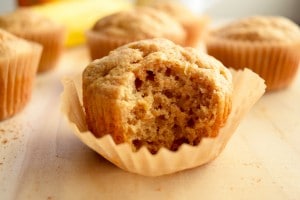 Orange Banana Muffins
Ingredients:
2 cups whole wheat pastry flour
2 tsp baking powder
1/4 tsp salt
1 tsp cinnamon
2 ripe bananas
1 cup orange juice
2 Tbsp orange zest
1/2 cup maple syrup
1/3 cup coconut oil (sub with 1/2 banana more for oil free)
Directions:
Preheat oven to 350 degrees F. Line a muffin pan with liners or grease well.
In a large bowl, mix the flour, baking powder, salt, and cinnamon. In a separate bowl, mash the bananas and stir in the orange juice, maple syrup, and coconut oil.
Pour the wet into the dry and mix until incorporated. Fold in the orange zest. Divide among the muffin cups.
Bake for about 15 minutes, or until golden and a toothpick comes out clean. Cool on a cooling rack for 10 minutes and enjoy!