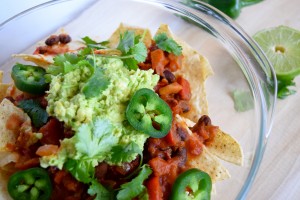 My husband and I don't watch sports. Heck, we don't like sports, at all. It was one of the many things that we bonded over, giggling about the ridiculousness that is the modern sport empire. Don't get me wrong, we have nothing against sports and understand the power it has on a community. We also appreciate the "togetherness" that it can inspire. But we also know the schedule of our local teams, but not for the reasons you may think. No, we know the schedule so that we can avoid the roads and hide out at home.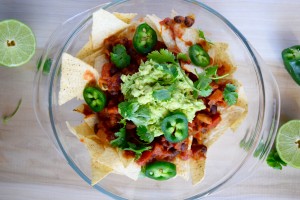 Now that we have a son, we know that he may love sports, which will mean that my husband and I will need to know more about them. Of course, we will fully support any (safe) activity that he chooses, so if he decides that sports are for him, we will be his top fans.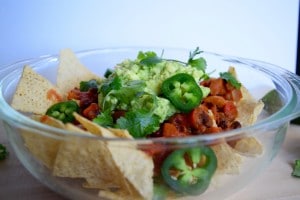 Despite our "meh" attitude about sports, we do enjoy the food that goes along with it. Chips, dips, vegetable trays, beer, bbq, fries, etc. So I used the upcoming superbowl as an excuse to make nachos! Who doesn't love a big plate of chips covered in all kinds of goodness like guacamole, salsa, peppers, and chili? I have yet to find a vegan nacho cheese recipe that I like, but these nachos do not need it at all. The leftover "Knock You Socks Off Chili" did the trick in making these nachos delicious.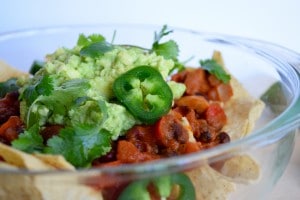 While everyone else is downing nachos during the game, we will be quietly eating them straight off the pan at midnight, while watching nerdy television shows like "The X-Files" or "Star Trek".
Loaded Vegan Chili Nachos
Ingredients:
1 cup Leftover Knock-Your-Socks-Off Vegan Chili (sub with refried beans or black beans if you don't have the chili)
about 5 big handfuls of tortilla chips
1 cup easy guacamole (2 avocados mashed with juice of 1 lime and 1 tsp garlic powder)
1/2 cup salsa
1 jalapeno, sliced
2 Tbsp cilantro
Directions:
Preheat oven to 375 degrees F. Put chips on an oven safe dish and top with the chili, salsa, and half the jalapeno. Bake for about 5-10 minutes, until heated and crispy.
Add the guacamole, the rest of the jalapeno, and cilantro and enjoy!